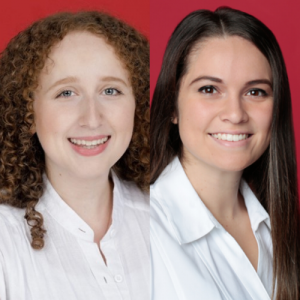 Alumnae Danielle Benghiat and Sarah Kelliher have reached major milestones at Curley & Pynn Public Relations Management – The Strategic Firm. ®
Kelliher was promoted to associate communications strategist – where she will lead the planning and implementation of strategic public relations programs for clients in economic development, financial services and energy sectors.
Kelliher joined Curley & Pynn in 2019 as a communications specialist and quickly became an essential member of the team, showcasing her experience in marketing, journalism, public relations, social media and photography to enhance strategic approaches.
Before her journey at Curley & Pynn, Kelliher interned for Limbitless Solutions, where she earned the chance to speak alongside Limbitless President Albert Manero, Ph.D., on a panel at the United Nations. She has also performed duties as a contributor for several media outlets.
Kelliher graduated with a bachelor's degree in marketing with a minor in journalism studies from UCF. She currently remains a dedicated member of the UCF community and as an active contributor for CheeseheadTV – a news source for Green Bay Packers fans.
In addition, Benghiat has become the newest communications specialist with the company, finishing her fall internship by being offered the full-time position with the agency.
Prior to joining the Curley & Pynn team, Benghiat interned for Evok Advertising, Wellons Communications, Seminole County Public Schools and for a campaign led by UCF and United Way.
Benghiat earned her bachelor's degree in advertising and public relations with minors in writing and rhetoric, as well as mass culture and collective behavior from UCF and serves as a member of the Florida Public Relations Association Orlando Area Chapter and Ad2Orlando.
For more information about Curley & Pynn's team of professionals, visit https://thestrategicfirm.com/about/. Connect with the firm on Facebook and LinkedIn.
Published April 1, 2021. Written by Jacqueline Cardentey
If you have any news, accomplishments or highlights about your work or life, please be sure to share them with us, by emailing us at nicholsonews@ucf.edu.