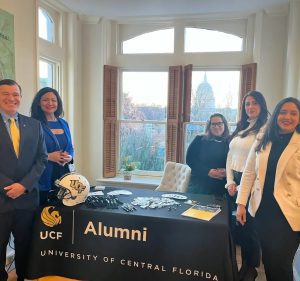 UCF Global Perspectives
Washington, D.C.
January 23rd – 27th
Global Perspectives and International Initiatives
Network with international partners
---
UCF Global Perspectives and International Initiatives (GPII) wrapped up a week of successful events in Washington, D.C. with a UCF Global Appreciation Dinner, hosted by UCF Global at the Four Seasons Hotel. The event was attended by ambassadors, cultural and education leaders and other distinguished partners and guests.
Dean Youcheng Wang of UCF's Rosen College of Hospitality Management, Associate Dean Ali Gordon of Graduate Affairs, and Katie Coronado, Assistant Director of Marketing and Outreach for NSCM, all attended to share UCF's achievements, contributions and programs as well as the importance of international students and faculty.
By Katie Coronado.
Published to Nicholson News on February 2nd, 2023.
If you have any news, accomplishments or highlights about your work or life, please be sure to share them with us, by emailing us at NicholsonNews@ucf.edu.