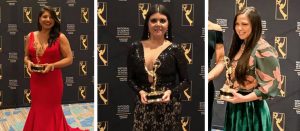 A well-known professor of journalism and three Nicholson School of Communication and Media alumnae were big winners at the recent 43rd Annual Suncoast Regional Emmy Awards in Orlando.
The event was held at the Hyatt Regency Orlando on International Drive on Dec. 14 and was put on by the National Academy of Television Arts & Sciences Suncoast Chapter. NATAS Chairman Terry O'Reilly said at the awards ceremony that the Emmy represents "the gold standard in American broadcast journalism.''
Sarah Espedido, a class of 2013 and a Radio-Television Production alumna, won an Emmy Award in the Politics/Government category for "The Fight for Amendment 4,'' a 21-minute documentary produced and published by the Orlando Sentinel about the struggle for felons in Florida to have their voting rights restored. Espedido, a video and photo journalist at the Sentinel, was director and editor on the project and teamed with producer/reporter Shannon Green, who also won an Emmy for her role on the documentary.
"That's really what made it a success was that we collaborated so well,'' Espedido said in the Orlando Sentinel.
Marielkis Salazar Zavarice, a class of 2010 RTV Broadcast Journalism alumna, was part of the WVEN Univision Orlando team that brought home an Emmy for Continuing Coverage for "Puerto Rico: La Realidad. The series of reports highlighted various crime areas of Puerto Rico that were not previously receiving a lot of coverage. Salazar Zavarice, who has since moved on to work for NASCAR in Daytona Beach, said, "To be nominated and have this reunion with my colleagues was amazing enough. To actually win….it's an amazing feeling!"
Natalie Morera, a class of 2009 and Journalism alumna, won an Emmy in the Environment category for "Eco-Hero: Antarctica, Expedition to the Bottom of the Earth.'' The special report, which aired on WLPG Local 10 in Miami where Morera is an executive producer, explores the connections between glacial melting in Antarctica and the threat of rising sea levels in American coastal cities such as Miami.
"I still can't believe it,'' Morera said of winning the Emmy. "This was a career goal, so to have it happen just puts me over the moon. In 2021, the plan is to go to the Arctic. I can't wait!''
In addition to these two winners, Dr. Phil Hoffman, a courtesy instructor in the Nicholson School's Radio-TV program as well as serving as executive director and general manager of WUCF-TV, saw his station win an Emmy in the Documentary/Historical category for "Space Chase USA,''  a one-hour documentary that explores the transformative changes to Brevard County when the space program arrived in the 1950s and 1960s.
Other Nicholson School alumni and faculty were honored with Emmy nominations this year but did not take home the prize. Valezka Gil-Wester, class of 2013 and a Journalism alumna, was nominated in the Feature News Report category for "La Travesia de 'El Coqui,''' a story about the maiden voyage of new fuel container ship that will serve Puerto Rico. She was also nominated in the Human Interest – News Single Story category for her story "Pedaleándole a la Vida," which is about a 4-year-old girl who overcame a very invasive form of bone cancer. Gil-Wester had previously won in the Human Interest category in 2018 with a story called "Trajes para Angelitos".
The story aired on WTMO Telemundo Orlando, where Gil-Wester is a reporter who leads the station's consumer investigative unit.
Journalism instructor Rick Brunson, class of 1984, was nominated in the Informational/Instructional category for "Journalism Ethics: A Morning With Nancy Alvarez,'' a 13-minute video lesson co-produced with Aaron Hosé of UCF's Center For Distributed Learning. The video follows and showcases the reporting of WFTV anchor/reporter Nancy Alvarez, who was also nominated on the project, as she covered the Pulse nightclub shooting in Orlando and Hurricane Maria in Puerto Rico.
Six current Nicholson School Journalism and RTV students participated in the Emmy Awards as show runners, working behind the scenes to ensure smooth production of the awards show. They were: Zoe Hammerschmidt, Anne-Caroline Verret, Lillian Hernandez Caraballo, Sarah Nagy, Mallory Jordan and Alexis Cole.
Hey, Alumni – were you a nominee or a winner and we missed highlighting your work? Let us know! We try our best to keep up with everyone who does great things, but sometimes we miss a few. Feel free to reach out and let us know at nscminfo@ucf.edu.
Written by guest columnist.