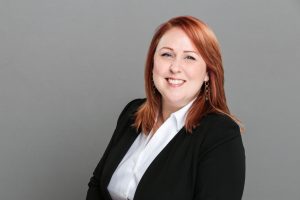 Curley & Pynn Public Relations and Marketing Communications has welcomed Nicholson School of Communication alumna Ellie Hodgkins as a communications specialist. Hodgkins has an extensive background in marketing communications, event planning, merchandising and business development for the broadcasting, fine art and hospitality industries.
A proud graduate of the University of Central Florida, Hodgkins earned a bachelor's degree in human communication in 2017.  She was an active member of Lambda Pi Eta, the National Communication Association's official honor society, and Tau Sigma, a national honor society for transfer students.
Hodgkins most recently served as a marketing consultant for Art & History Museums – Maitland, where she helped promote preservation of the National Historic Landmark. She has also gained valuable experience in numerous supervisory roles for the Home Shopping Network, liaising with brands such as Coca-Cola, Wolfgang Puck, Museum of Modern Art (MoMA), Bon Appétit Magazine and more.
Passionate about philanthropy, Hodgkins served on the advisory board for the Community Tampa Bay youth program for eight years. She has also participated in many art installations and charitable auctions for the Outdoor Arts Foundation, a nonprofit dedicated to supporting art-in-public places projects around the world.
For more than 30 years, Curley & Pynn has provided strategic counsel and total communication program management to corporate, government and non-profit clients who recognize that in today's business environment it is essential to communicate with all who have an interest in their success.  Curley & Pynn is the Central and North Florida affiliate of MSLGROUP Americas, one of the world's largest public relations firms.  For more information, visit www.TheStrategicFirm.com. Dan Ward, Curley & Pynn's President, serves on NCS's Advisory Board.