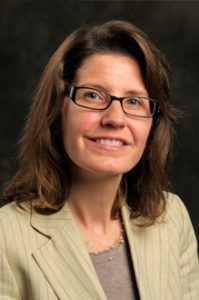 Community service and speech class may seem like two unrelated things, but Christine Hanlon, Ph.D., is changing that in her Honors Fundamentals of Oral Communication course. She has implemented a semester-long service learning project to complement her students' in-class experience. The goal of the project is for students to learn important public speaking tactics and confidence.
"When you go out in the real world, you're going to be doing most of your speeches about your workplace or one organization," said Hanlon, an associate lecturer of human communication. "So it would make sense to have students doing all their presentations about one organization."
Hanlon, who has taught at UCF since 1998, began assigning the service learning project about 14 years ago. Although she did not teach the project for several years while earning her doctoral degree in philosophy from the University of Florida, Hanlon was happy to regenerate the project in 2017. The project gives students the opportunity to work with an organization and then do all of their in-class speeches about that organization.
At the start of each semester, students are partnered with different nonprofit organizations for students and organization leaders usually set up at the beginning of the semester so students have the whole semester to work on their projects. It's also an effective way for students from different classes, who may end up working at the same organization, to meet each other. Additionally, some partnerships are created based on student interest or if students already have relationships with local organizations.
Every partnership provides different opportunities for students to get involved and practice their public speaking skills. Many of these partnerships work with Hanlon and her students every semester, making way for ongoing relationships that last for years. In fact, many of the students that Hanlon taught more than 10 years ago are now leaders in nonprofit organizations, which allows her to coordinate partnerships between her previous and current service learning students.
With her connections to community and nonprofit leaders, Hanlon is able to secure service learning partnerships with 10 to 15 different community organizations every semester, including:
• A Gift for Music
• Anna V. Eskamani, Democratic candidate for FL House District 47
• Carlos Guillermo Smith, Florida Representative, District 49
• Give Kids The World
• HOPE Helps
• Lions Club of Oviedo/Winter Springs
• Pet Rescue by Judy
• Planned Parenthood of Central Florida
• UCF Arboretum
Toward the end of the semester, students give their final speeches in front of an audience larger than their own class. Hanlon reserves rooms in the UCF student union and invites students from her larger Introduction to Communication classes, who learn about public speaking around that time, to come watch the speeches.
"It's a win-win because the students who completed the service-learning projects get to practice their public speaking skills while students from my larger lecture get to see public speaking in action," said Hanlon. "I provide an incentive by giving extra credit to those students who come. More than 60 students come to see the speeches every semester."
That's not all Hanlon does to prepare her students. She also helps them work on posters related to their service learning hours during class meetings.
"Essentially, the posters are presentation aids," said Hanlon. "Working on them in class allows me to help the students for the Service Learning Showcase and Showcase of Undergraduate Research Excellence. If it's something they're interested in, they can win scholarships and get even more experience communicating with others on behalf of an organization."
Erica Bodin, a former student of Hanlon's, is grateful for the overall experience she had in the course.
"Service learning changed the course of my educational career," said Bodin, who is a junior human communication major. "The semester I enrolled in the course, I experienced personal growth like never before. I felt confident that I was not just learning but serving my community in a meaningful way. I firmly believe that every student at UCF should have the opportunity to participate in service learning."
The Service Learning Showcase is held in the student union every semester. In 2017, Hanlon's students won more than $4,000; spring students won $1,500 and fall students won $2,600. The students also won multiple awards, including the "Best Overall Service-Learning Project," "Social Justice Award" and "Engaging the Arts" awards.