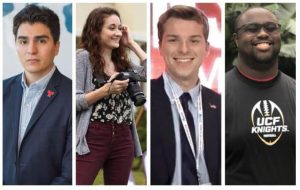 The Nicholson School of Communication is proud to announce that four  journalism students were admitted into the Dow Jones News Fund Internship Program.
Interns will attend a one-week summer internship residency before spending 12 weeks as paid staff members at news organizations. Those returning to college at the end of a successful summer receive $1,000 scholarships.
Cristobal Reyes-Rios, who earned a journalism bachelor's degree in May 2018, will train at Arizona State University and will work at the Miami Herald as a digital producer. Kyle Swenson, a journalism and finance student, will work as a business reporter at the Orlando Business Journal and train at New York University. Isabelle D'Antonio, a journalism student with minors in political science and history, will train at the University of Texas and work at the Los Angeles Times as a multimedia editor. Dominique Smith, a journalism student, will train and participate at the Investigative Reporters and Editors. Smith will be the project leader of NSC's watchdog reporting independent study when he returns in the fall.
Dow Jones News Fund was first introduced into NSC by former journalism professor Rick Kenney in 2004. Rick Brunson, NSC associate instructor of journalism, worked as the organization's associate director from 2005 to 2008, recruiting applicants and leading test-preparation workshops for NSC students. Since then, he has been a key connection between the DJNF program and NSC.
Even with Brunson's support, the program is very competitive. More than 700 students from across the country applied for the 82 available positions. Students are evaluated based on their resumes and experiences, performance on the Dow Jones News Fund tests, telephone interviews, 500-word essays and the needs of media outlets.
"The premise of Dow Jones has always been that students should be given the opportunity to work in news-media organizations in the field, not just in Dow Jones, and have experiences of the real-life work," said Linda Shockley, the managing director of Dow Jones News Fund. "We appreciate the relationship we have with the University of Central Florida and the test administrator, Rick Brunson, who has shown ultimate support and advocacy for the program."
D'Antonio said she's excited to improve her editing skills during her 10-day boot-camp and looks forward to putting those skills into practice in the newsroom of a major newspaper.
"I can't wait to grow as an individual and as a professional and refine the skills I've gathered at NSC," she said.