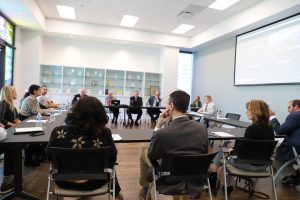 UCF Advisory Board
UCF Downtown
January 25th
Advisory Board Meeting
Board members meet to discuss future plans and initiatives for NSCM
---
The Nicholson School's Advisory Board met on January 25th to discuss future plans and initiatives for the School. The Advisory Board discussed ways to become more involved, including speaking engagements with students as well as offering more of their time to participate and advise in changes to the School's academic endeavors.
NSCM's Advisory Board is comprised of industry professionals and alumni, so we are excited to see what they have planned for our school!
The mission of the Nicholson School of Communication and Media Advisory Board is to foster a partnership between the school and its constituents and affiliations, both within the school and extending to the larger community. The overlying goal of the board is to assist the administration and faculty in maintaining and enhancing the quality and excellence of the school in its educational and research missions.
By Ryan Fox.
Published to Nicholson News on February 2nd, 2023.
If you have any news, accomplishments or highlights about your work or life, please be sure to share them with us, by emailing us at NicholsonNews@ucf.edu.