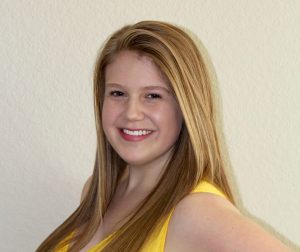 In February, Nicholson student Annie Reiber started the Clay Newbill Internship on the award-winning reality business-themed show, "Shark Tank" in Culver City, California. As September starts Reiber's ending her summer working alongside the show's executive producer and 1982 UCF alum himself, Clay Newbill.
"Shark Tank" is a reality show that showcases aspiring entrepreneurs in search of monetary help to grow their businesses. The aspirants make business presentations to a panel of potential investors called "sharks." If the sharks are interested, the entrepreneurs could leave with millions of dollars.
"I've met the most amazing group of people to learn from at 'Shark Tank'," Reiber said. "Clay does an amazing thing by giving UCF students the chance to break into a very competitive industry and I couldn't be more appreciative."
Reiber worked directly with the casting team and the team was in charge of looking through all the applications, finding entrepreneurs for the upcoming season.
"I love my job, particularly because I've seen each entrepreneur's journey from the very beginning when they're just applying, up to the moment they're standing in front of the sharks," Reiber said. "That's definitely been the most rewarding part for me because I get to see the show change people's lives."
Annie Reiber graduated from UCF in May 2018 with a bachelor's degree in radio tv-broadcast journalism and a minor in business. As Rebecca Morales called it, Reiber had a double-high impact learning experience.
"She took advantage of every angle at UCF and it paid off," Morales said, NSCM managing director of advising and student services.
While an undergrad at UCF, Reiber was invested with both her major and minor, as well as Honors in the Major – a program designed to encourage the best juniors and seniors to undertake original and independent work in their major field. Also, in the National Communication Association, Lambda Pi Eta, which promotes and encourages professional development among communication majors.
Reiber was also involved in Knightly News, a NSCM weekly campus television newscast, where she worked in production and later on as a reporter.
"The Nicholson School of Communication and Media does a great job of preparing its students for their future careers," Reiber said. "But at the end of the day, internships and extracurricular offer the most real-world experiences. I was able to figure out what I enjoy and what I excel at because of my internships. I'm still figuring things out but I cannot stress enough how much they've helped guide me in the right direction."
Photo: Annie Reiber