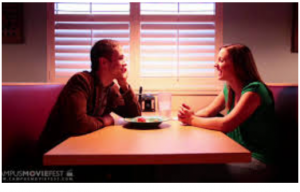 The Nicholson School of Communication and Media and School of Performing Arts (SPA) alumni Julian Kazenas and Reid Nicewonder both have their independent films, after winning a spot on the Top 25 Campus Movie Fest films, streaming on Prime Video by Amazon.
The Campus Movie Fest (CMF) is the world's largest student film festival. The films for CMF are made in just one week to compete among the best of over 20,000 films submitted.
Kazenas, an alumnus of SPA musical theater, was recognized for his film, "The Curious Case of Jeff Jefferson," and Nicewonder, a NSCM alumnus, was chosen for his film, "Love Awkwardly" on the Top 25 films. Both films are highly recommended and can currently be seen on Amazon since Prime Video has partnered with these graduates.
Julian Kazenas' movie, "The Curious Case of Jeff Jefferson" is a short film that follows the character of Jeff as an average college student who finds himself going through a serious break up that leads to depressive coping and terminal illness.
Kazenas graduated from UCF with a bachelor's degree in Musical Theatre in 2017. Kazenas has 10 years' experience of performing in the Orlando area as well as having exposure across film, TV, and stage, from Ohio's historic Porthouse theatre to the Cannes International Film Festival in Cannes, France. Since the creation of this movie, Kazenas has been involved in the San Bernardino, California Theatre Teacher Sleepaway Camp as a specialist. Currently he is an Equity actor for Walt Disney World in Orlando.
Nicewonder's movie "Love Awkwardly" is a short film that tells the story of a man distressed by his awkward life that leads him to pursue a woman who he was force to fire.
Nicewonder graduated from UCF with a bachelor's degree in Film in 2010. Since this movie, Nicewonder has worked in film production in myriad roles. He has not only directed, but he has done editorial work, product management, cinematographer, and camera and electrical roles for many films. Some of his work includes "Gamblers Ballad," "15 Minutes of Faye," "Sanctuary," "Escape Room," and much more. Currently Nicewonder can be found in Los Angeles as an editor for NicewonderFilms.