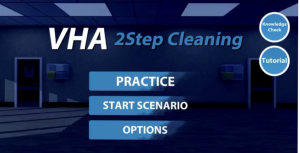 The University of Central Florida is aiding in the fight against coronavirus with the creation of a new app called 2 Step Cleaning.
The app, which was designed by the Nicholson School's Florida Interactive Entertainment Academy video game production program, is being used to teach employees how to better sanitize rooms.
The objective of 2 Step Cleaning isn't to score points, but to save lives. It aids employees by showing them where to focus when cleaning and by reminding them of places that are often easily forgotten.
WFTV covered the story on their channel recently as the game has become a go-to resource during the crisis, with more custodial staff being hired and trained quickly.
Through the app, hundreds of thousands of employees can be trained across the country about protocol and sanitation requirements.
The Veterans Administration, which has hundreds of facilities, clinics and benefits' offices set up around the United States to help veterans, has been using the app to assist in training their custodians. It works hand-in-hand with live training to drill exercises over and over as repetition is key for retention.
2 Step Cleaning is now available for download on the App store!
This article was written by Iulia Popescu.
Published May 1, 2020.
If you have any news, accomplishments or highlights about your work or life, please be sure to share them with us, by emailing us at nicholsonews@ucf.edu.