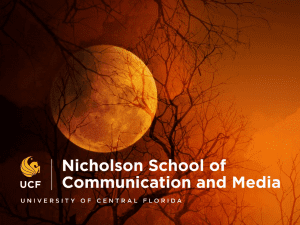 Nicholson School students and alumni have a legacy of crafting imaginative and heart-pumping films as well as video games.
One of the most well-known horror movies to come from UCF is "The Blair Witch Project," which put UCF's film program on the map by breaking multiple records – such as becoming Orlando's first produced feature to ever be screened at Sundance. Several UCF films have been showcased at Sundance since then!
Students and alumni of the film program continue to produce successful films – including many in the horror genre.
This past summer, feature film production graduate students completed principal photography on two horror thrillers. Sarah Tice and Mark Felbinger will release those films in mid-2022.
Here are a few hair-raising UCF-affiliated movies and short films to watch now:
"Interior," is a feature-length horror film written, produced and directed by UCF Film lecturer Zachary Beckler. It won the Grand Jury Prize for Best Horror Feature at the renowned Shriefest Film Festival in LA, plus many other awards.
"Kitchen Witch," is an eight-minute short directed by student Fransiscus Fendrian, which showcases what it looks like to be a witch – not just a witch, but a kitchen witch – in today's times. The short can be viewed on Youtube, as part of the UCF Film BFA Exhibition Day 1, starting at 28:04 until 36:16.
"The Songs of Lazarus," is a nine-minute short directed by student Anthony Greenstone, which is a haunting tale about a widowed Christian woman who participates in an experiment at her home in which the participant must listen to a set of binaural beats that will allow them to experience the afterlife. The short can be viewed on Youtube, as part of the UCF Film BFA Exhibition Day 1, starting at 1:24:18 until 1:32:56.
"Trick or Treat," is a seven-minute feature directed by student Rachael Pisarski. The story begins with two bickering siblings set out to receive the best candy while trick-or-treating, but when faced with an embarrassing costume incident and a group of bullies, they must put aside their quarrel to stick up for one another to save the day – and their candy. The short can be found here, as part of the UCF Film BFA Exhibition Day 1, starting at 1:35:37 until 1:42:39.
Alongside films, many students that are part of UCF's undergraduate game design program and the interactive entertainment graduate program through the Florida Interactive Entertainment Academy (FIEA) have created various games – with quite a few having heart-thumping qualities.
Students work on projects and create various games or mini games throughout the semesters. FIEA master's students also often work toward their capstone.
Capstone is the creation of a full game over multiple semesters, where students will go through the entire development cycle. Many students decide to publish their capstone games through various avenues, such as Steam or Xbox, earning their first published title.
Here is a short list of some NSCM student-crafted spooky games:
Enjoy your watching and gaming!
Published October 1, 2021. Written by Iulia Popescu.
If you have any news, accomplishments or highlights about your work or life, please be sure to share them with us, by emailing us at nicholsonews@ucf.edu.