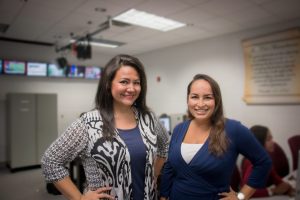 As they taught Hispanics in Media in the U.S. for almost a year, NSCM broadcast journalism Instructor Katie Coronado, M.A., and Lecturer Erica Kight, Ph.D., ran into a huge problem. Educating about Hispanics in media is fairly new, therefore not many books cover the topic. Coronado and Kight decided to change that.
Over the course of four years, Coronado and Kight worked together to bring to life a book that would serve as a manual about the Hispanic and Latinx communities and their impact in the media industry. After taking two years to get publishing rights and two more of writing, communicating with experts in the field and editing, Latinx Voices: Hispanics in Media in the U.S. was born and adopted by UCF.
"There was nothing in place and in order to teach a class like that and educate our students we knew we needed to write the book," Coronado said.
Coronado and Kight contacted Latinx experts and scholars to write and supplement chapters in the book and explain how the Hispanic and Latinx audience has transformed media. The book starts a conversation about the gap in U.S history where the impact and the contributions Hispanics and Latinos have made have been left out of records.
"We decided to focus on the voices that have always been there," Kight said. "A lot people talk about giving someone a voice, but the voice is there, it's just not being heard. This is why the book is unique. It doesn't give a voice to people, it puts the voices that have always been there out there and gives them a platform."
The title of the media book uses the 'x' in Latino to demonstrate the embrace of inclusivity. In Spanish, words and terms have either masculine or feminine inclinations. The word Latino seemed to communicate male and only represents the male group. Changing to 'x' represents everyone and it's inclusive for varying gender identities.
"The name comes from the need to move our media industry and society forward," Coronado said. "It's forward thinking. We want to show that we represent inclusiveness. We want to make sure that it's understood by everyone who takes the class or reads the book."
Published on July 18, 2018, Coronado and Kight's first book explains how to communicate and approach the big range of cultures within the Hispanic and Latinx communities.
"Media influences the mind and the heart of people who make decisions in the media industry," Coronado said. "And it's crucial to have the knowledge on Hispanics and Latinxs to do so."
Ana Hidalgo, graduate assistant, helped Coronado and Kight with the editing of this groundbreaking book.
"Collaborating on this book with professors Kight and Coronado and other talented scholars has been a wonderful experience," Hidalgo said. "I think this initiative will not only shed light on the impact that Latinos have had in U.S. media, but also prepare a new generation of students to effectively perform in bilingual environments. It is an exciting and challenging time to be in the communication field with all the changes that are occurring now, and I am glad I have been a part of it."
Coronado and Kight hope to have their book adopted by more universities and media companies.
"I hope this inspires other people in academia to acknowledge the contributions that Hispanics and Latinx have made in all aspects of history," Kight said.