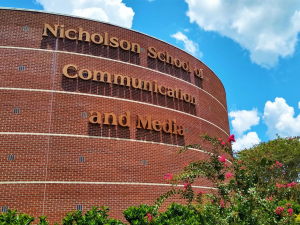 As the Fall semester draws near, it may be a stressful time for faculty and students when it comes to preparing for classes. Faculty at the Nicholson School of Communication and Media have a few tips about what they do to get ready for a new semester.  
Dr. Robert Littlefield, Founding Director and Professor, Communication: "Every semester offers a fresh start. One way I prepare for a new semester is to think about what I hope to accomplish and keep those goals posted in a visible place where I can see them and be reminded. Of course, I remind myself of the reasons why being in academia has impact and I strive to make my environment one where optimism and hope prevail." 
Dr. Timothy Sellnow, Pegasus Professor and Associate Director of Graduate Studies, Research and Creative Activity, Communication: "I recommend returning with a focus on the present. All of us set demanding—often excessive goals about how much we intend to complete over the summer. Once summer ends and fall semester begins, we need to cast away any guilt about what did or did not get done over the summer and shift our focus to the excitement and unique opportunities of a new academic year."  
"If you are new to Orlando and UCF, the size of the city and university can seem off-putting as you try to complete basic and bureaucratic tasks. Everyone around you has been new to Orlando and UCF at some point. We understand your confusion or frustration. Be sure to reach out to your peers with any questions or needs you have. Allow your new friends in NSCM to help you navigate the complexities Orlando and UCF." 
Rick Brunson, Senior Instructor, Film and Mass Media: 
"Don't waste the first week. A lot of students treat Week 1 of the semester as 'syllabus week' and either fail to show up or exhibit an attitude of nonchalance about it. That's a mistake. 'The beginning is always today,' novelist Mary Shelley famously said. Not after the Labor Day break. My best students are those who always show up on Day One laced up, all in, and ready to learn, achieve and succeed. They stand out — on Day One — because of their attitude. And they always, always come up after class to introduce themselves."  
Dr. Erica Kight, Associate Lecturer, Film and Mass Media: 
"I try to put in extra work and time into my webcourses early in the semester to ensure that things run smoothly later when the pace picks up and I am busier. I've found that this extra effort to automate things ahead of time and make sure I have built-in redundancy so that students don't miss anything is really helpful later on." 
"Another step that helps tremendously is I created an office hours google form with a questionnaire that students fill out when requesting appointments. This is a huge time saver for me, and I wish I had started doing it years ago. The data from the request forms also help with tracking the topics that students most often want to discuss during office hours, so I try to use that information to update my syllabi and webcourses content, as well." 
Wishing everyone a wonderful fall semester!
By Majdulina Hamed.
Published to Nicholson News on August 2nd, 2023.
If you have any news, accomplishments or highlights about your work or life, please be sure to share them with us, by emailing us at NicholsonNews@ucf.edu.