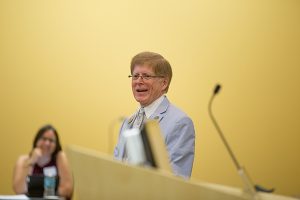 The Nicholson School of Communication and Media is proud to have added the Spring Semester 2019 Director's Honor Roll to their list of awards that are now available to students. Director Robert S. Littlefield worked to make this Honor Roll possible.
"I am so pleased that the faculty approved the Director's Honor Roll as a way to recognize our outstanding majors!" Littlefield said. "The response has been very positive from the students and the Honor Roll is another way for our students to demonstrate their academic success to employers as part of their resumes."
In total, more than 18% of Nicholson School of Communication and Media students received the new honor, which started this semester and year.
Considering that the Director's Honor Roll is even more rigorous than the Dean's List, it is a tremendous feat.
Qualifications for the honor include full-time enrollment of 12 credit hours, 3.6 semester GPA, no grade below B and have not earned a grade of "I," "U," "N," "NC," or "WF."
Everybody who worked diligently throughout the semester to meet those requirements received a certificate signed by Littlefield in recognition of their outstanding scholastic achievements.
This article was written by Iulia Popescu.