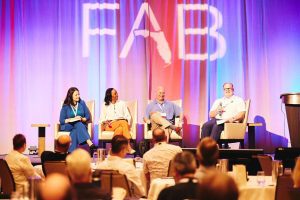 Cheers to new partnerships! A look back at the Nicholson School of Communication and Media's recent participation on an academic panel with FAMU and UF during the Florida Association of Broadcasters conference at the Four Seasons Resort at Disney. UCF NSCM Associate instructor and Assistant Director of Community Outreach, Katie Coronado was welcomed with the honor to be a part of the panel with the FAB. A special thanks to FAB president, Pat Roberts, for his leadership and work in our media industry.
The Florida Association of Broadcasters (FAB) is an organization whose mission is to promote the well-being, cooperation and prosperity of the owners, managers, employees and specialists engaged in the business of broadcasting and televising in the state of Florida. To learn more about the FAB, go to: Florida Association of Broadcasters (fab.org)
By Majdulina Hamed.
Published to Nicholson News on July 7th, 2023.
If you have any news, accomplishments or highlights about your work or life, please be sure to share them with us, by emailing us at NicholsonNews@ucf.edu.