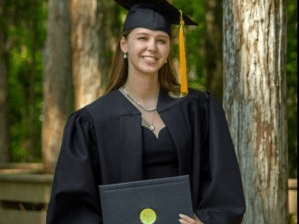 The freedom to explore different career paths in college can be a burden as much as a gift for students, including Abbigale Martin '21 BA.
Martin first chose English as her major based on a love of writing, then pursued Human Communication with a Business and Professionalism Track after transferring to UCF from Florida Gulf Coast University (FGCU) in 2019. But even that field offered multiple options, and she felt the pressure to pick the right one. That's where the Nicholson School of Communication and Media Mentorship Program proved its worth.
Martin was paired with Gwen Griffin BA '85, founder and chief executive officer of Griffin Communications Group, during the fall of 2020. Martin's mentor has a resume that spans 35 years and just about every aspect of communication Martin might consider for a job, including director of marketing for NASA-Kennedy Space Center Visitor Complex and area marketing manager for Southwest Airlines.
Together they talked over Martin's past internships, passions and the kind of workplace her personality would find a home.
Griffin's expert insight suggested Martin would fit well in an agency environment just like the one she operated. That led to an internship with Griffin Communications Group, and following graduation this May, a permanent position as an assistant account executive for Martin.
"I've hired a lot of people over the past 25 years. I've found that you and the agency itself are always happier when the work fits your personality," said Griffin, who also chairs UCF's College of Sciences' Dean's Advisory Board.
Martin benefited from Griffin's input and encouragement as she wrapped up her college education. Perhaps more importantly, talking with Griffin and other mentors within the program erased some of the guesswork on where to pursue a career.
"I've discovered I really enjoy working somewhere that brings something new every day," Martin said. "You have to wear a lot of hats to work in an agency. I love that."
This was Griffin's first semester as a mentor, but she strongly endorses the program. It was personally rewarding to see Martin succeed, Griffin said, but it was also a boon for her business to tap into the young workforce.
"Abbi knows a lot about digital media, and our team is learning from her, too," Griffin said. "We're letting her take lead on projects where we know she will excel."
Endorsements for the program come from all quarters.
"The Nicholson School's Mentoring Program is yet another shining example of the dedication, concern and commitment our alumni have to the school and their future fellow alums," said NSCM's Senior Associate Director, Boyd Lindsley, BA '04, MA '06, Ed.D. '15. "The immense growth in just the few years since the program has been established underscores their commitment and the usefulness of the program."
NSCM Mentorship Program Chair Sean Helton '96 adds: "Thanks to the dedication of (Director Robert Littlefield, Ph.D.) the NSCM faculty, staff and alumni board, the mentorship program has grown into an incredible opportunity for our students. We have paired hundreds of students with alumni who have risen to the highest ranks in their fields and who want to pass that experience on. Along with an education from our award-winning faculty, the mentorship program helps prepare NSCM students for a successful career."
This article was written by Kyle Martin and originally published here. Published to Nicholson News on July 1, 2021. Edited by Iulia Popescu.
If you have any news, accomplishments or highlights about your work or life, please be sure to share them with us, by emailing us at nicholsonews@ucf.edu.