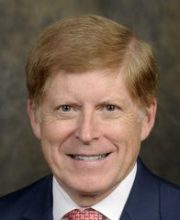 New York Times bestselling author, coach and speaker once said, "a leader is one who knows the way, goes the way, and shows the way." This quote is relevant to our own Dr. Robert Littlefield, Professor of Communication and Director of the Nicholson School of Communication and Media. Last month, Dr. Littlefield traveled abroad to TU Ilmenau in Germany where he met with university officials to discuss the establishment of a dual degree master's program between the two universities. This project has been a work in progress for several years, and now post-pandemic they have been able to move forward. I had the opportunity to ask Dr. Littlefield a few questions about this exciting update in NSCM.
Q: Can you tell us about the degree program you're working on?
"The dual degree program would enable students at both institutions to study for one semester at the other school. The students will have an advisor at both institutions to supervise their thesis research. When the students complete the degree, they will have a diploma from both institutions."
Q: What do you hope to achieve in Germany?
"I met with the University President Dr. Sattler and with academic affairs leaders to discuss what we will need to do to make this work. My goal was to meet the key people and establish a positive relationship. I believe I did that."
Q: Why did you choose Germany?
"We already have an exchange agreement with TU Ilmenau, but since Ilmenau received an Erasmus grant, we have accelerated our efforts. I believe students will benefit from this distinctive international program."
Q: How was your overall experience in Germany?
"I was a guest lecturer and scholar in three graduate classes. I provided feedback to doctoral students, critiqued master's students projects, and presented my Tensions of Strategic Communication Decision-making Theory. The students were very receptive to my culture-centered approach to risk and crisis communication."
Q: Will there be opportunities for UCF students to collaborate with German students?
"The dual degree program will enable students who want to have a global experience as part of the graduate program to engage with German students, as well as students from around the world. At the seminar I spoke at tonight, all but three were from other countries around the world."
Q: Are there scholarships available for students who would like to travel to Germany to study abroad in the future?
"NSCM provides scholarships for international study. I am going to work with our donors to identify funding to support our UCF students seeking to participate in this program."
Established in 1894, TU Ilmenau is a German public research university located in Ilmenau Thuringia, Central Germany. Today, five modern departments conduct interdisciplinary research and teaching in engineering, mathematics, and natural sciences as well as economic sciences and media.
By Majdulina Hamed.
Published to Nicholson News on December 1st, 2022.
If you have any news, accomplishments or highlights about your work or life, please be sure to share them with us, by emailing us at NicholsonNews@ucf.edu.