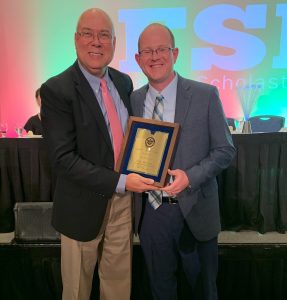 The Florida Scholastic Press Association (FSPA) honored Nicholson School journalism professor Rick Brunson the Gold Medallion Award – its highest prize – at the organization's annual convention April 12.
Brunson, who has taught journalism at the NSCM since 2003, received the award at a banquet attended by about 1,500 high school journalists and their teacher-advisers from around the state. The banquet was held at the Wyndham Orlando Resort on International Drive. Brunson, pictured left, was congratulated by FSPA Executive Director and NSCM alumnus Adam Livesay (Radio-TV 2009) at the awards banquet.
"The mission of FSPA is to educate, train and support scholastic journalists and their advisers, and Rick Brunson checks all three boxes,'' said Adam Livesay. "For more than 15 years, Brunson has spoken at many of our district workshops and spring conventions, and even helps recruit other professional journalists to speak. He volunteers in Orlando-area classrooms as an additional resource for high school advisers by giving feedback on articles and layout design. As a college professor, Brunson's job is to make sure the journalists in his classes will be ready for the real world. Through his involvement with FSPA and other summer workshops, Rick reaches even further into the future to make sure that they are well prepared and passionate about journalism long before they walk through his door at UCF.''
The Gold Medallion was first awarded in 1979 and is designed to recognize individuals who have made signification contribution to scholastic journalism, and in FSPA particularly.
This article was written by Iulia Popescu.