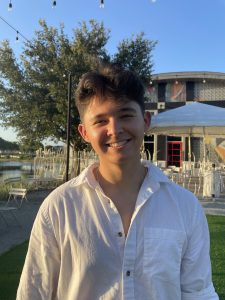 It's exciting to hear about students' accomplishments and successes throughout the years. Dylan Dearman, a Nicholson School of Communication and Media student majoring in radio-television management will embark on a new journey in Los Angeles, California for an internship at renowned television show that may sound familiar. Dearman is enthusiastic and eager to have recently accepted an internship as a Post-Production Assistant with the TV show Shark Tank.
Dearman states that, "I'm beyond excited to move to California and start my internship with Shark Tank. I never would've thought that this would be my first major step towards my career goals after college and I couldn't have had done it without the support of my family, friends, and UCF."
Congratulations Dylan! Best of luck with your internship program.
By Majdulina Hamed.
Published to Nicholson News on May 5th, 2023.
If you have any news, accomplishments or highlights about your work or life, please be sure to share them with us, by emailing us at NicholsonNews@ucf.edu.