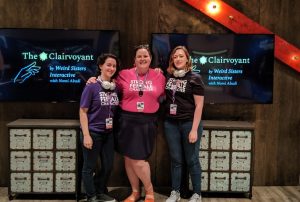 Rachel Donley (pictured left) is in the new digital media MA program through NSCM and is expected to graduate spring 2020. When she's not studying as a full-time student or playing games, she's creating them.
Donley, alongside friends Jessica Greenstreet (pictured center) and Ava Pierce (pictured right), form Weird Sisters Interactive.
Weird Sisters Interactive is an all-women team that has come together to create games. Their most recent one, "The Clairvoyant AR," was among the few selected from the San Diego Game Jam to demo using the Bose AR platform at PAX West, which took place August 30 through September 2 in Seattle.
The friends originally heard about the opportunity from their teammate, Pierce.
Programmer Pierce received an invite from the organization Playcrafting to participate in one of the Bose Game Jams, where the task was to design a game for Bose's new AR technology. Playcrafting is one of the largest communities of game creators in the United States and Bose is one of the leading audio equipment companies.
Joined by composer Nomi Abadi for the game jams, their all-woman team, notably the only all-woman team, applied and were accepted as one of six teams for the San Diego Game Jam.
At the jam, competitors had a little over 48 hours – two and a half days to be exact – to create a playable demo of a game, and then a month afterwards to finish and publish it.
Instead of focusing on visuals like typical games, the challenge was to create a game based completely through sound. The Bose technology it centered around included the revolutionary Bose AR Frames and QC35 Series II headphones, which has allowed for the world's first audio augmented reality platform.
"In brainstorming, we focused on answering a few questions," Donley said. "Like, what are the affordances of sound as a means of creating an experience and what are the affordances of the Bose AR hardware? What do we lose (and gain) by removing screen usage for "heads up, hands free"? I didn't want a game where the player's imagination had to contend with what they were experiencing."
Based on the women's in-progress submission partway through the month, they were one of two teams selected from the San Diego jam to demo their game using the Bose AR platform in Seattle.
Donley believes the skills she gained from the digital media master's program through NSCM proved most helpful.
"Ideation, the confidence and communication skills to share ideas effectively and the ability to build on or discard them to create were all crucial components to the process that I have improved on through my studies," said Donley. "Additionally, I have had the opportunity to study past and contemporary creators doing relevant work, which has helped me assess and expand my knowledge on what has been done, what is possible, and what has yet to be explored. Overall, the master's program has been a great complementary experience to my past and current work in the games industry – all of these elements combined have made me a better creator."
Weird Sisters Interactive worked together to create the game "The Clairvoyant AR," which can be downloaded for free from their website.
In the game, the player is a clairvoyant who has the unique ability to access the spirit plane – an auditory realm full of the pleas of ghosts unable to cross over. The clairvoyant works with a detective plagued by her past, voiced by Abadi, to free the lost souls of unsolved crimes. But, beware – this work comes with dangers in the form of poltergeists, that mimic the sounds of ghosts to trap the clairvoyant.
"All four of us have a shared fascination with the occult, so the idea of ghosts and psychics arose pretty quickly in the conversation," stated Donley.
"The Clairvoyant AR" was one of the few games selected to demo using the Bose AR platform, as part of the traveling Bose AR-cade.
The Bose AR-cade is part of a year-long alliance between Playcrafting and Bose to invest in game developers nationwide. During the game jams, developers worked together in their respective cities to create 18 exclusive games using the latest Bose AR-enabled wearables and developer tools to be showcased in the Bose AR-cade at the gaming industry's biggest events in 2019, including PAX West, where the ladies got to share their game.
"Through play crafting and through these game jams we have enabled dozens and dozens of teams to build these awesome audio-first experiences around AR," said Chuck Freedman, the head developer for Bose, in a YouTube video. "All of those AR products are wearables so the idea is that game play can be driven based on wearing headphones or frames."
Unlike other augmented reality platforms, Bose AR doesn't change what is seen, or use a lens or phone camera to superimpose objects in one's sightline. Instead, it combines a nine-axis, head motion sensor with the GPS from a paired iOS or Android device to produce a layer of audio, connecting users' movement, or the exact place they're looking at, to provide endless possibilities for gaming, and more.
"Some of the most creative and innovative creators are part of the gaming industry," said Playcrafting founder Dan Butchko. "Through our alliance with Bose, we're able to empower and arm these independent developers with the cutting-edge technology so they can bring innovative experiences to thousands of game players and Bose AR users."
This article was written by Iulia Popescu.