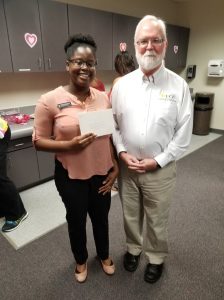 After working in the Nicholson School of Communication for only five years, Eve-Lyndssa Oxley has received a College of Sciences USPS Recognition Award for her exceptional work with staff, faculty and students. Oxley was thrilled to receive the award.
"I appreciate the support of the faculty and staff and I am very honored of receiving this award," she said.
The College of Sciences USPS Recognition Award is granted to staff who demonstrated a record of excellence in their job, admirable service and commitment to their school or college. Boyd Lindsley, Ed.D., and Rebecca Morales thought she was the perfect candidate and nominated her for the award.
"Eve is the embodiment of going 'above and beyond' in her work and does all of it with exquisite professionalism and pep-in-her-step," wrote Lindsley, who is deputy director of the Nicholson School of Communication, in the letter of support for the nomination.
Oxley, who graduated from UCF with a bachelor's degree in public administration and a nonprofit management certificate, was honored with other USPS winners on Feb. 14 at the College of Sciences Staff Appreciation Day.
Oxley began her role in NSC as a peer mentor in August 2013 while she was still a student; she later became an office assistant. As result of her commitment and leadership, Oxley was hired as an admissions specialist in the Nicholson Academic Student Services Center (NASSC).
Morales, who serves as the managing director of advising and student services in NASSC, said Eve is "the epitome of an outstanding professional and [her] work enriches the lives and experiences of countless students and faculty." Morales said that Eve is a crucial part of her team and she is grateful to have Eve on board every day.
Oxley, who also works as an advisor for two of NSC's five undergraduate programs, is always giving that extra hand and doing work that is beyond her title.