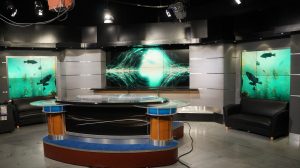 When it opened in 1998, the Nicholson School of Communication was equipped with the turn-of-the-century's latest, greatest analog and digital technology, the majority of which was provided by Panasonic. Twenty years later, "latest and greatest technology" has a different meaning.
NSC's TV production studio was recently upgraded to continue "teaching real-world skills in a real-world environment" and serve as a hands-on learning laboratory covering all facets of broadcast and some print production. The installation of three video walls comprised of 14 Panasonic 55-inch professional displays, along with a diverse fleet of HD cameras, has provided students with more experience and training on the state-of-the-art systems they will encounter in post-graduation employment.
Jim McCully, NSC's senior broadcast technologist and studio manager, voiced how much this benefits NSC's students, particularly those in broadcast programs.
"The new Panasonic video wall gives our students an outstanding opportunity to learn enough to be able to step into a production or editing job requiring manipulating images between multiple panels and hold their own," said McCully. "The system is very specialized for this kind of environment. It's totally flexible and this equipment really supports our goal of preparing broadcast graduates to move into a number of careers."
Needless to say, the current equipment has little in common with the late-'90s "state-of-the-art" studio setup that greeted the first group of communication students. Today, NSC is a 100-percent HD facility featuring the latest designs in cool-burning LED cluster lighting and solid state storage media. A few of the other Panasonic HD Pro Camcorders used to cover out-of-studio, new media, or interview opportunities get passed around quite a bit because even introductory classes are taught with cameras, according to McCully.
"The students quickly get indoctrinated with classes requiring equipment," said McCully. "They can then volunteer for as many shows as they can to get some exposure and experience there so we get equipment into their hands fairly quickly."
Outside of classes, students have the opportunity to work one of four regularly scheduled programs: "ToKnight's the Night, "Beyond The Credits," "Hitting the Field" and "Knightly News." These programs, produced in the studio, are recorded by a quartet of Panasonic HD studio cameras and are the result of students' hard work.
Approaching his 30th year at NSC, McCully says his greatest job satisfaction comes from "working with technology in a learning environment and watching the students grow in confidence and suddenly begin to light up when they come to realize what they can accomplish."
This story was originally published here.