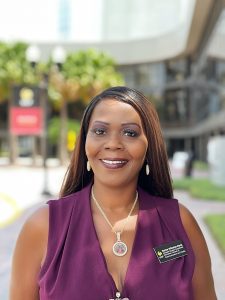 As the Nicholson School's new Graduate Student Services Coordinator, Sarina Winston-Mack assists graduate students from prospect through graduation.
She started working at the University of Central Florida (UCF) on August 11, 2021. Being a first-generation graduate from UCF herself, returning to her Alma Mater felt like "returning home."
"There's this immense 'Knight Pride' I feel when I walk onto campus," said Winston-Mack. "It brings back so many undergrad memories. Words cannot express my gratitude towards my Knight family."
Not only did she attend and graduate from UCF, but her brother Roderick Vaughn Durham was the first African American UCF Homecoming King. The bench on main campus, behind the Student Union, is dedicated in his honor!
Winston-Mack and her family grew up in the 1970s, where they broke many molds from racial barriers.
"[My mother re-married when I was 5-years-old and] being in an Interracial family was not as prevalent or as accepting as it is today!" said Winston-Mack. "We integrated our eastside neighborhood in Detroit, Michigan. Our then neighbors picketed for months to get us to move out. I tell this story to say this: my parents stood their ground. When I accidently was responsible for our house catching on fire, it was our neighbors who took turns and opened their homes to us, and we stayed one week at each neighbor's house until our home was livable – yes, the same ones who picketed let us stay with them and became our friends to this day! The moral of this story is love can conquer a lot of barriers. Be the example for others to mimic. Be persistent no matter how long it takes!"
After living in Michigan for most of her childhood, Winston-Mack and her family relocated to Florida. She received her Criminology AA and Hospitality Management AA from Valencia, and then went on to receive her a bachelor's degree in Criminal Justice with a Minor in Psychology from UCF.
As a first-generation student, there was a tremendous amount of pressure on her shoulders to succeed.
When her grades started slipping and she began doubting herself, a professor from the Criminal Justice School reached out to her. He began mentoring her, encouraging her and even speaking to the department on her behalf.
"Listening to this professor go to bat for me on my intelligence and willingness to learn, and how I was a leader for not only his class but other students as well, lit a spark in me that I believe still exists to this day," said Winston-Mack.
After graduating, she applied to the University of Phoenix to receive her master's in Business Administration.
She loves assisting current students as the new Graduate Student Services Coordinator.
"This is why I am here for the graduate students at NSCM: I am just simply passing the torch to the next person," said Winston-Mack. "I know firsthand the sacrifice and hardships that may come along during the school term. So, I relate with the grad students. I've been in their shoes. I have a saying that what you invest in yourself is what you get out. You must be your own biggest fan and loudest cheerleader! Education doesn't guarantee you a higher paying job, but it does open more doors of opportunities."
Winston-Mack is a newlywed to retired E6-Navy Derick Mack, and a mother of two beautiful daughters Markai and Samarra Durham. She also enjoys being a MeMa to her five grandchildren, with another girl due in January.
Published November 1, 2021. Written by Iulia Popescu.
If you have any news, accomplishments or highlights about your work or life, please be sure to share them with us, by emailing us at nicholsonews@ucf.edu.