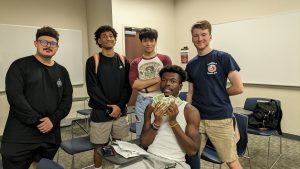 This semester's Persuasion and Communication class recently put their theory in action to raise money for Knights Helping Knights pantry. KHK is an entirely student run organization which helps hundreds of UCF students obtain food and personal hygiene items each semester. Armed with a list of persuasion techniques to test out, groups of 2 to 4 students fanned out across campus and approached people with the request for donations (including Prof. Jonathan Conway, who donated generously!) 
Students concluded that the approaches that worked best were a scarcity approach, or telling people this campaign is going on for a limited time (which was true—the campaign was only happening during a single class period!)—and social proof, that is, approaching potential donors in groups so that when one donated others were motivated to follow suit. The class instructor, Dr. Ann Miller, reports that within 50 minutes $140.51 was raised by the class to help needy knights. 

By Dr. Ann Miller.
Published to Nicholson News on November 2nd, 2023.
If you have any news, accomplishments or highlights about your work or life, please be sure to share them with us, by emailing us at NicholsonNews@ucf.edu.