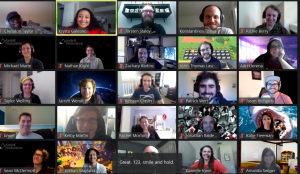 The partnership between Electronic Arts (EA) and UCF's Florida Interactive Entertainment Academy (FIEA) is offering hope for 70 students learning to adapt as they prepare to start their job search in an economy still reeling from the global pandemic.
FIEA Day is a yearly event catered by EA for FIEA students, structured around career development. It's a chance for students to speak with professionals that are in positions the students admire.
Transforming what would have typically included an in-studio tour and in-person career development discussions, EA and FIEA pivoted to create a virtual edition of their annual FIEA Day.
Krysta Galeano, Next-Gen Talent Recruiter for EA, spoke on the meaningfulness of events such as FIEA Day.
"I love that FIEA Day unites our team with the next generation of game developers," said Galeano "These students will inform, design, manage and produce the next set of games our players and loved ones come to cherish. We have lots to learn from each other and FIEA Day is a conduit for those discussions."
During FIEA Day, which occurred this year on June 12, students received feedback from EA employees after the employees playtested student games.
"Izcalli of the Wind" was one of those games. Users play as Izcalli, who rides a hoverboard that contains the soul of a trapped god, and travels throughout the realm to restore energy to the conduits that power it.
The team who created "Izcalli of the Wind," consisted of Project Lead Taylor Welling; Lead Level Designer Nathan Knight; Programming Lead Gaelan Dignan; Design Lead and Level Designer Jarett Rhodes; Art Lead and Environmental Artist Jason Richards; Development Director Mohammad Mustafa; Lighting Artist Adri Llerena; Concept Artist, 2D Artist, Environment Artist Claudia Morell; Animator Sean McDermott; Technical Designer and Programmer Chesalon Taylor; Technical Designer Rohit Thakre; Character Artist and Environmental Artist Michael Marte; Level Designer and Sound Designer Amanda Swiger; Programmer and Technical Artist Sandy Demian; Environmental Artist Bianca Santimaw; and Technical Artist Destiny Nunn.
Graduate student Welling had to step up as a project lead in the middle of the development of "Izcalli of the Wind."
After only two weeks as the new lead, the coronavirus pandemic also hit, forcing everyone to adapt to working solely online for the remainder of the project. Despite initial hurdles, the team carried on with production, proving their adaptability in an ever-changing world.
"The video game industry is all about adaptation," Welling said. "Things change on a regular basis and you have to be able to adapt to those changes. It's unfortunate that we had to work remotely, but the experience has been useful."
The other capstone project games included "Wick," under project lead Zach Karlins, "Keepers of the Trees," under project lead Sam Roberts and "Kore" under project lead Thomas McGuire.
The students' completed games will now hit Steam, a video game digital distribution service that is known as the ultimate destination for playing, discussing and creating games.
While the pandemic has caused some difficulties, video game playing and sales have reached record highs, which is good news for the aspiring students at FIEA.
"[Being at FIEA] has been my favorite year of my life so far," Welling stated. "It's hard work, but it's also made me grow so much as a person."
FIEA officially opened in 2005 with 12 grad students and has since grown to a cohort of 132 in Fall 2019.
Over 15 years ago, EA saw the need for a graduate program in video game design and partnered with UCF, the State of Florida and the City of Orlando to establish FIEA in 2004, providing the first-ever video game design graduate program in the nation.
"EA has been a tremendous partner in supporting the growth of the game industry in Florida and the academic growth within the State University System," said Ben Noel, FIEA's executive director.
Since EA partnered with UCF to establish FIEA in 2004, the relationship has flourished into an important talent pipeline.
Now, one of every two new graduate hires in the development studio at EA Tiburon have come through FIEA over the past two years. EA looks for employees who leverage determination, pioneering and creativity.
For more information on FIEA, check out their website.
Published September 1, 2020. Written by Iulia Popescu.
If you have any news, accomplishments or highlights about your work or life, please be sure to share them with us, by emailing us at nicholsonews@ucf.edu.