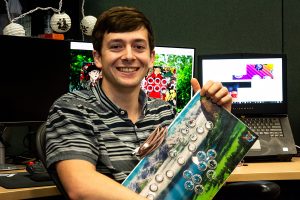 Providing more opportunities for people with disabilities in the video game and simulation industries was the theme of the second annual Press Play Conference in downtown Orlando on Jan. 12.
The Florida Interactive Entertainment Academy at UCF and local partners sponsored the half-day conference aimed at educating and inspiring people with disabilities.
"The gaming and simulation industries are places where people from all backgrounds can thrive," said FIEA executive director Ben Noel. "We want to show the disability community in Central Florida all the resources and opportunities for people who want to choose one of these exciting careers."
Graduate student Aaron Cendan, who is pursuing a degree in interactive entertainment, is already immersed in finding ways to make games more accessible to everyone. Inspired by a friend who could no longer play games because of a hand issue, Cendan decided to take action.
"I was surprised to find no custom controllers out there on the market, so I decided to try and build them myself," says Cendan. In 2018, he formed Stickless, a company that makes custom controllers for competitive and disabled gamers. Now he's got more orders than he can fill and is pleased to see Press Play address the needs of disabled people.
Click here to view the UCF story promoting the event.
Click here to view the event gallery.