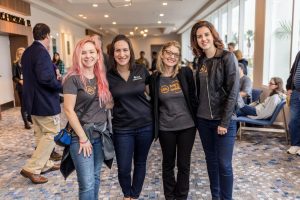 On Jan. 13, 2018, FIEA & EA presented a free conference where young women were inspired and informed on how to get into the game and simulation industries.
WHY GIRLS SHOULD MAKE GAMES
The day began with EA and FIEA volunteers checking-in all participants. Then EA Sr. Producer Lina Ingsvardottir gave a powerful talk on her journey to becoming the highest-ranking woman producer at EA and why girls should make more games.
---
MOCAP SESSION
After the conference walked over to UCF's Center For Emerging Media, FIEA faculty Amanda Beaver led an interactive session on the magic of motion capture.
---
PRODUCTION, PROGRAMMING & AUDIO SESSIONS
Covering topics like what producers do, the many roles of programmers and how audio shapes games, these three Press Play sessions inspired and entertained the audience.
---
ART SESSIONS
EA artists Karen McCarthy and Mary Denman drew great crowds with their presentations on how to become a video game artist.
---
PRESS PLAY PANEL DISCUSSONS
The conference ended with two moderated panel discussions on the size and state of the game industry, what makes a good employee, and how diverse teams make better products.
All photos by Anthony Balinas and Nick Leyva.