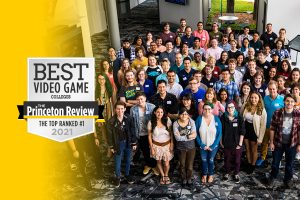 The University of Central Florida's graduate video game design program has been recognized by the Princeton Review as the top graduate game design program in the world. This marks the third time in the past six years that UCF has garnered the top spot.
UCF's undergraduate game design program also ranked highly at No.14 again this year.
The interactive entertainment graduate program at the Florida Interactive Entertainment Academy (FIEA) and the digital media undergraduate program are offered at the UCF Downtown campus in Orlando's Creative Village district, which will be home of the new Electronic Arts Tiburon studio.
"Our game design programs have state-of-the art equipment and facilities, talented and experienced faculty and the advantage of being in physical proximity to some of the nation's top gaming companies," said President Alexander N. Cartwright. "Our goal is to not just prepare students to enter the industry when they graduate, but to position them to excel in it."
The graduate program, which started in 2005 with 12 students, now has more than 800 graduates at more than 300 companies in 45 different states and countries around the globe — with an average starting salary of over $70,000 and Iron Galaxy, Electronic Arts and Epic Games being the top three employers.
"We are again excited that the Princeton Review and PC Gamer have recognized the tremendous growth and success of the video game industry and education in Central Florida" said Ben Noel, FIEA's executive director. "The vision 15 years ago was for a creative higher-wage district with sustainable jobs and a pipeline of talent. Through the commitment of the state, city, UCF and industry, there will be 2,000 game developers and students within a few blocks of each other in 2021."
The limited-access program is home to state-of-the-art studios and world-renowned faculty. Each year, students from around the world apply, and remain in Florida where they continue to expand the region's digital media hub.
For more information regarding FIEA, visit their website.
Published June 1, 2021 for Nicholson News. Story originally published here.
If you have any news, accomplishments or highlights about your work or life, please be sure to share them with us, by emailing us at nicholsonews@ucf.edu.