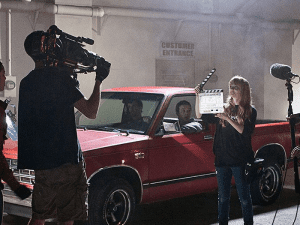 The Radio-Television program is one of four limited access programs in the Nicholson School. The program has prepared thousands of students throughout the years to work in industry around the world.
The program helps students whether they're planning for a career behind the camera or in the business industry.
The radio-television studio and production facilities opened in 1999 as a centerpiece of the Nicholson building on main campus. Since then, the facility has been continually updated to match industry standards and is currently equipped with state-of-the-art technology.
Starting in the fall, the program will be renamed to Media Production and Management.
Nicholson Assistant Director of Film and Mass Media, William Kinnally, Ph.D., explains that the changes come with wanting to go more in depth into reflecting the curricula and a broader spectrum of media.
"Those changes accounted for a broad range of media from traditional broadcast media to new media such as YouTube and podcasting," said Kinnally. "The terms 'radio' and 'TV' have different meanings to young people today. We wanted the name of the program to formally represent what we are teaching and how we are meeting the needs of the current media environment."
With these changes, the following requirements include:
30 credit hours must be earned to apply.
Student must have completed or be enrolled in RTV 3007 (Development and Structure of Electronic Media) with successful completion with a "C" or better in each course.
Published August 2, 2021. Written by Iulia Popescu.
If you have any news, accomplishments or highlights about your work or life, please be sure to share them with us, by emailing us at nicholsonews@ucf.edu.