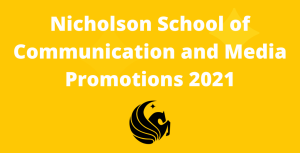 A great university is built by exceptional faculty and this year's group of promoted faculty members are part of the Nicholson School's continued academic excellence.
Seven members of the Nicholson School of Communication and Media (NSCM) faculty were promoted and one received tenure for the 2020-2021 cycle.
In the communication program, Doug Blemker was promoted from instructor to associate instructor as was Jonathan Conway.
In the film and mass media program, Erica Rodriguez Kight, Ph.D., was promoted from lecturer to associate lecturer; Lisa Mills, Ph.D., was promoted from associate professor to professor; Lisa Peterson, was promoted from associate instructor to senior instructor; and Kevin Smith, was promoted from lecturer to associate lecturer.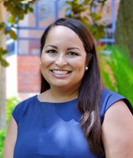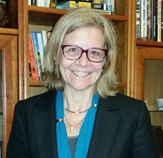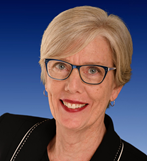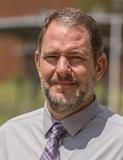 In the games and interactive media program, Matthew Mosher, was promoted from assistant professor to associate professor with tenure.

These NSCM faculty obtained a letter of promotion from Jana L. Jasinski, Ph.D., Vice President for Faculty Excellence and a letter of congratulations from Tosha Dupras, Ph.D., Dean of the College of Sciences.
"The promotion and tenure process involves a comprehensive review of a faculty member's teaching, scholarship and creative activities and service," said Jasinski. "These faculty members have demonstrated excellence in these areas and I am proud they have chosen to work at UCF. I know we will continue to see their success and our students will continue to benefit from them as well."
Michael Johnson, interim provost and vice president for Academic Affairs, offered some words on the tenure process, as well.
"Tenure is necessary for UCF to retain and recruit our best and brightest faculty members," said Johnson. "It is a key factor in UCF's drive to meet metrics for preeminence and to fulfill our vision for inclusive excellence and impact. I am confident these faculty members will make a significant contribution to UCF's future success."
The rigorous process for promotion and tenure takes nearly an entire academic year as faculty are evaluated on research, teaching and service.
Congratulations to these outstanding faculty members.
Published May 1, 2021. Written by Iulia Popescu.
If you have any news, accomplishments or highlights about your work or life, please be sure to share them with us, by emailing us at nicholsonews@ucf.edu.