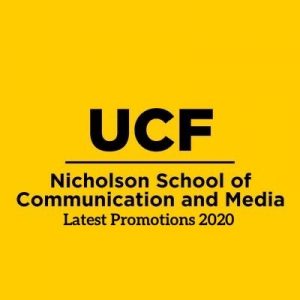 Eight members of the NSCM faculty's hard work and persistence paid off, as they were recently promoted.
Patric Spence, Ph.D., and Natalie Underberg-Goode, Ph.D., were promoted from associate professors to full professors. Jihyun Kim, Ph.D., Lisa Kritzer, Ph.D., and Peter Smith, Ph.D., were promoted from assistant professors to associate professors. Christine Hanlon, Ph.D., was promoted from associate lecturer to senior lecturer, Richard Brunson was promoted from associate instructor to senior instructor and Gary Lapage was promoted from instructor to associate instructor.
Jeffrey Moore, Dean of the College of Arts and Humanities, spoke on the work of some of these faculty members.
"The faculty at UCF is the hub of the university and the success of our academic and research-related activities resides with them," Moore said. "The promotion process is a means by which individuals are recognized for their contributions to these activities within their discipline, and I am always thrilled each spring to acknowledge these successes."
Kim, Kritzer and Smith also all have tenure pending, which is to be decided by the university's Board of Trustees.
Michael D. Johnson, Ph.D., Interim Provost and Vice President for Academic Affairs also shared his prideful thoughts on NSCM faculty.
"One of the pleasures of life as dean, and now as interim provost, is the opportunity to study what faculty have done before making recommendations on promotion," Johnson said. "NSCM has wonderful faculty members who are dedicated to students and to advancing their success. They elevate their students to professionalism, find opportunities for them to work alongside practicing professionals and prepare them to excel in this ever-more-diverse, ever-shrinking world. Indeed, the research of these faculty helps shape that world."
The Nicholson School congratulates all of the continued work and effort made by faculty members.
Published May 1, 2020. Written by Iulia Popescu.
If you have any news, accomplishments or highlights about your work or life, please be sure to share them with us, by emailing us at nicholsonews@ucf.edu.