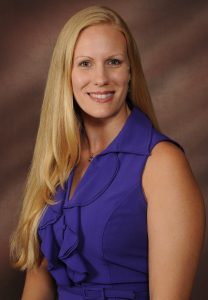 When associate instructor Lindsay Hudock first joined The Florida Public Relations Association (FPRA) as an undergraduate at UCF, she had no idea how much it would help shape her professional career.
Now, Hudock has been chosen as the 2020 Public Relations Professional of the Year by the FPRA Orlando Area chapter.
This prestigious award recognizes a member of the Orlando community who exemplifies high standards of public relations in Orlando.
"I'm already eternally grateful to my FPRA family and now I'm just humbled to be recognized by the association I love and peers I respect," Hudock said. "FPRA has meant so much to me throughout my career, serving as a constant source of growth, opportunity, training and friendships."
Hudock serves as the faculty adviser for Quotes, the student chapter of FPRA, which she first participated in and fell in love with during her time as a student at UCF as well.
Hudock's interest for public relations stemmed from Tom Morgan, Ph.D., who taught intro to PR at UCF. She underscored the importance mentors have had on her throughout her life and how they helped her chart her path as an Ad/PR professional.
"I remember sitting in the 4th row in Comm 101 and as Dr. Morgan closed out a lecture, I turned to my friend and said, 'If I could be him when I grow up I think I could be really happy.'" Hudock stated. "And I never looked back. Dr. Morgan became a mentor to me and served on my thesis committee in grad school. The letter of recommendation he wrote for me for this job, his job that he was retiring from, remains one of the greatest honors of my professional career. It's now joined by this award."
Hudock is passionate about using her skills to guide aspiring public relations professionals and help organizations improve communication, leadership and relationship building. Her love for her work has helped push her.
"Find something you love, give it your all, don't be afraid to work hard and make mistakes, and when you find the people and organizations along the way who can support and help you grow, don't pass them by," Hudock said.
Along with being an associate instructor in the Advertising and Public Relations program at the Nicholson School of Communication and Media, she is also a principal of Well Said Public Relations, LLC.
Hudock's role with Well Said Public Relations, the consulting company she founded with a friend in 2007, has allowed her to work with nonprofit clients across the country.
Well Said Public Relations provides public relations counsel as well as leadership and communication training. It has allowed her to work with incredibly worthwhile organizations who are trying to make the world a better place.
Through Well Said Public Relations, Hudock has been involved with Central Florida nonprofit organizations like Leadership Seminole, Kid's House, Boys Town of Central Florida, Safe House of Seminole, Impower, The Central Florida Zoo, The Rescue Outreach Mission, Harvest Time International, Seminole Work Opportunity Program, and community leadership programs all across the country.
"Lindsay is a true leader and mentor to many of us in Central Florida's public relations industry," said Megan Paquin, APR, CPRC, President FPRA Orlando Area chapter. "Her dedication to her clients, students and the FPRA community is unmatched. On behalf of the Orlando FPRA community, we are honored to present this award to Lindsay and thank her for her ongoing work to advance the public relations profession."
To learn more about the PR Professional of the Year, visit www.fpraorlando.org.
Published September 1, 2020. Written by Iulia Popescu.
If you have any news, accomplishments or highlights about your work or life, please be sure to share them with us, by emailing us at nicholsonews@ucf.edu.