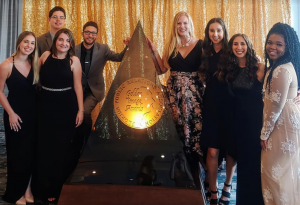 Quotes, the Public Relations (PR) club at UCF overseen by associate instructor Lindsay Hudock, took home a Florida Public Relations Association (FPRA) Orlando Area Chapter Image Award in every category.
FPRA is the largest and oldest association of public relations professionals in the United States. More than 1,500 individuals belong to FPRA, working together to enhance and promote the public relations profession throughout Florida and the nation.
Conducted annually, the Image Awards competition held by FPRA provides PR practitioners a platform to distinguish themselves in their home markets.
The Image Awards also works to give applicants insights for entering their work, if they choose, into FPRA's statewide competition – the Golden Image Awards. The Golden Image Awards have become a standard of public relations excellence in Florida.
Both these award competitions include four divisions: Public Relations Programs, Printed Tools of Public Relations, Digital Tools of Public Relations and Student Projects in Public Relations. Within these divisions are multiple categories.
For information on how to enter, click here.
Hudock is proud of the hard work that the executive board of Quotes puts in.
Hudock is an instructor in advertising/public relations for the Nicholson School. She received her B.A. in advertising and public relations in 2003 and completed an M.A. in mass communication in 2005, both from NSCM. She is a member of the Orlando-area chapter of FPRA and oversees Quotes.
As a member of Quotes, students are exposed to a vast amount of opportunities that help them land their dream jobs.
Quotes also hosts Intern Pursuit, which gives students an opportunity to apply to internships in all kinds of PR sectors allowing them to explore different career options. FPRA events additionally allow students to connect with working professionals in the Orlando area and compete against other chapters.
For those interested, more information about club membership is available on the Quotes website.
Published June 1, 2020. Written by Iulia Popescu.
If you have any news, accomplishments or highlights about your work or life, please be sure to share them with us, by emailing us at nicholsonews@ucf.edu.