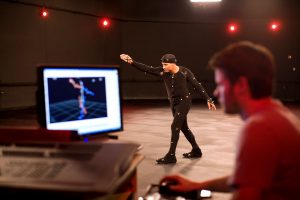 UCF's graduate game design program is No.1 in North America, according to The Princeton Review and PC Gamer magazine in 2020.
This is the second time in the past five years that UCF's interactive entertainment graduate program at the Florida Interactive Entertainment Academy (FIEA) has taken the top spot. FIEA, now celebrating 15 years, has more than 700 graduates working at 230+ entities around the globe.
UCF's undergraduate program in game design also ranked at No. 14.
The 2020 Game Design School Rankings, another ranking system, placed UCF highly in multiple categories, including second out of 50 colleges nationally and first among Florida colleges.
"These are our eighth annual rankings for game design," says Game Design School Rankings founder Brad Prescott. "We considered over 125 schools with game design programs from across the US in preparing this year's rankings."
UCF placed first in three categories overall in the 2020 Game Design School Rankings: Top 40 Nationally among Public Schools and Colleges, Top 15 in the South and Top 5 Game Design Schools and Colleges in Florida.
UCF also ranked second place in Top 50 Nationally, Top 20 Nationally among schools offering a Game Design B.A. and Top 20 Nationally among schools offering a Game Design M.S./M.A.
Ultimately, every student has different needs regarding the type and academic rigor of a program, campus culture, as well as cost, lifestyle and career focus. Like any ranking, these are not perfect and are open for debate but can serve as starting points for students to discover schools.
For those interested, UCF offers a B.A. in Digital Media with a Specialization in Game Design and an M.A. in Digital Media – Visual Language and Interactive Media. Both programs are located at UCF Downtown.
Published April 1, 2020. Written by Iulia Popescu.
Photo by Matt Stroshane.