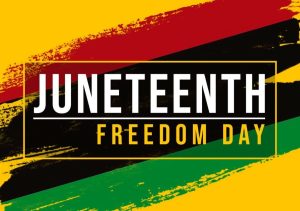 June 19th is an important day of remembrance and celebration for the African American community in the United States. Juneteenth, as it is known, commemorates the end of enslavement in the U.S. While the Emancipation Proclamation took effect on January 1, 1863, the news did not reach all states at once. Many locations in border states between Union and Confederate controlled areas continued to enslave Black people for years.
Union soldiers had to march through the South to spread the news of freedom for enslaved people across the region. By the time the soldiers arrived in Galveston Bay, Texas on June 19th, 1865 (two-and-a-half years after the signing of the Emancipation Proclamation) there were still over 250,000 enslaved Black people in the state. This still did not lead to immediate emancipation for all, as many enslavers withheld the information until after harvest. Finally in December of that year the 13th amendment brought formal abolishment of slavery.
The next year a group of freed enslaved men in Texas organized the first "Jubilee Day" on June 19th. Many consider Juneteenth the United States' second Independence Day, though for a long time this critical historical event was relatively unknown outside of Black communities. Texas was the first state to officially recognize Juneteenth in 1979, but it did not become a federal holiday until President Joe Biden signed it into law in 2021.
This is an important day to recognize the realities of American history and reflect on ways to continue to fight against contemporary discrimination and racism. As is the case for most official holidays, there is already increased commercialization and commodification of Juneteenth. While Juneteenth isn't necessarily a part of the history of all Black people in the United States, it is a part of U.S. Black history. When acknowledging or celebrating Juneteenth in your workplace or organization it is essential to center Black experience and voices.
To further explore this important history check out Smithsonian's National Museum of African American History and Culture's Juneteenth reading list.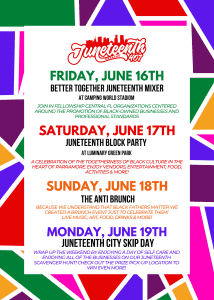 Published to Nicholson News on June 1st, 2023.
This article was written by Jennifer Sandoval, Ph.D., Associate Professor, Assistant Director of Inclusive Culture, and Ph.D. Program Coordinator.
She can be contacted at Jennifer.sandoval@ucf.edu. Edited by Robert Littlefield, Ph.D.
If you have any news, accomplishments or highlights about your work or life, please be sure to share them with us, by emailing us at nicholsonnews@ucf.edu.