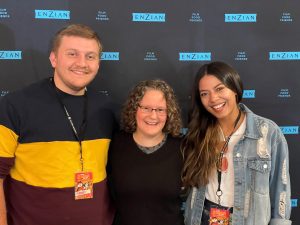 The 30th Annual Brouhaha Film & Video Showcase took place in November with student work being showcased from all over the state of Florida. In exciting news, a record number of student films from UCF were showcased this year, making up about half of the total program this year! Betsy Kalin, Assistant Professor of Film and Mass Media, highlights a few student filmmakers that attended the showcase: Thomas D'Antuono, Melanie Cedeno-Lopez, and Carlos Irazabal. Thomas directed A World Under Glass (Carlos DP'd) and Melanie directed The Good Harvest in her Doc Production class.
Congratulations UCF Film students! Keep up the great work!
By Majdulina Hamed.
Published to Nicholson News on December 1st, 2022.
If you have any news, accomplishments or highlights about your work or life, please be sure to share them with us, by emailing us at NicholsonNews@ucf.edu.