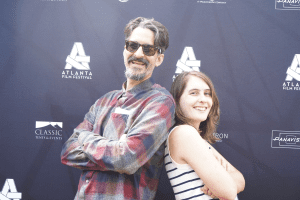 April 2023—Red Earth was awarded a special jury award for cinematography at the 47th Atlanta Film Festival. The narrative feature screened at a sold-out World Premiere at the Plaza Theatre on Friday, April 28th as part of the feature film program. Awards were announced Saturday, April 29. Red Earth was directed by Georg Koszulinski, with cinematography by Kate E. Hinshaw and Koszulinski. Hinshaw and Koszulinski were both in attendance.
Red Earth is a co-production of Substream Films and Lunar Kitchen Films, led by producers Georg Koszulinski and Tiffany Albright. It was co-produced by Children of the Setting Sun Productions, led by producer and chairperson emeritus of the Lummi Nation, Darrel Hillaire. More information about the cast and crew can be found at redearthmovie.com.
The Academy Award-qualifying Atlanta Film Festival represents '…one of the largest and longest-running festivals in the country, welcoming an audience of over 28,000 to discover hundreds of new independent, international, animated, documentary, and short films, selected from 8,000+ submissions from all over the world.' (ATL FF website)
RED EARTH (feature film; 64:00; USA)
Red Earth imagines a world in the late Anthropocene, where large parts of Earth have become inhospitable to life. The story follows a single family across three generations, from the initial colonists to settle on Mars to the first expedition to return to an Earth decimated by interplanetary war. Red Earth utilizes a hybrid non-fiction/epistolary framework to recount the experiences of Kasei Harriot—the last woman on Mars to be born on Earth.
BIO/Georg Koszulinski (Writer/Director/Producer/Cinematographer)
Georg is a multimodal filmmaker whose work spans a wide range of forms and styles. His recent work engages issues of the Anthropocene and explores his hybrid approach to fiction & non-fiction storytelling. Throughout his career Georg has produced and directed eleven feature-length fiction and documentary films and dozens of short form experimental, essayistic, and narrative works. His films have been licensed for distribution through Gravitas Ventures, Docurama, Amazon Prime, Tubi, Fandor, the Documentary Channel, and Alexander Street/Proquest, among others, and his award-winning works have been presented at hundreds of film festivals, museums, and microcinemas around the world. vimeo.com/koszulinski
BIO/Kate E. Hinshaw (Cinematographer/Associate Producer)
Kate is a tactile filmmaker and cinematographer who works with digital and film cameras alike. Coming from an experimental background, she is interested in using the cinematic gaze to render visible the interiority of the feminine. Her work has screened at SXSW, Maryland Film Festival, Atlanta Film Festival, Denver Film Festival, and Indie Grits. She was the recipient of the 2020 Vanishing Angle Post Production Grant, and 2021 Southern Documentary Fund Filmmaker award for excellence in southern storytelling. She publishes and curates Analog Cookbook – a film zine that celebrates and shares knowledge of analog filmmaking, darkroom process, and features artists from all over the world. She currently resides in Wilmington, NC where she is Assistant Professor of Cinematography at UNCW. katehinshaw.com
Published to Nicholson News on May 5th, 2023.
If you have any news, accomplishments or highlights about your work or life, please be sure to share them with us, by emailing us at NicholsonNews@ucf.edu.