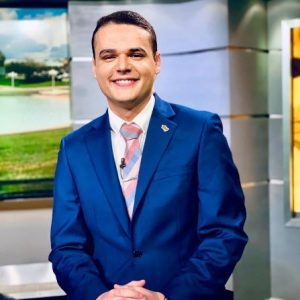 This is a message from Dr. Robert Littlefield, Director of the Nicolson School of Communication and Media:

It is with sadness that I write to you this morning to convey that Dylan Lyons, an award-winning journalist and UCF alumnus was the victim of a tragic shooting while reporting for Spectrum News 13 yesterday, February 22. Dylan's passing is a major loss for our entire community; and the media industry and our School are mourning.
Dylan Lyons was a Nicholson School of Communication and Media 2019 Alum who demonstrated his abilities in the journalism program with his vibrant personality and dynamic storytelling. His journalism professors remember him as a confident and talented go-getter who was always up for a challenge and never turned down an opportunity to cover a story. The Nicholson School of Communication and Media family—especially his journalism professors and colleagues—were shocked and disheartened to learn about his tragic death.
As faculty, we do our best to share our knowledge and expertise with our students to provide them with the tools they will need for the careers they choose. Dylan excelled and used those tools to do what he loved. It is more than disheartening when senseless things like this happen again and again. No one should have to worry about losing their lives while doing their jobs. We are devastated and our thoughts and prayers are with his family and colleagues at Spectrum.
Dylan proved to be talented and passionate in the classroom and that drive led him to the professional world soon after graduation. He landed his first job at WCJB TV20, the ABC affiliate in Gainesville. In 2020, Dylan's work was named best "Politics/Elections Series" by the Florida Association of Broadcast Journalists. In 2021 he was a finalist for Investigative reporting. Dylan will be remembered for his professionalism that shined through from the start and led him to accomplish great things.
I encourage you to reach out and support our colleagues and students who are experiencing extended grief or emotional stress resulting from this event. The Employee Assistance Program (EAP) is a confidential, university-funded benefit available to all faculty and staff, as well as their eligible family members, that offers the support and resources. EAP contact: 877-240-6863 or https://hr.ucf.edu/current-employees/benefits/additional-employee-benefits/employee-assistance-programs/
There will be ongoing efforts to honor the memory of Dylan in the coming days. Please direct all requests for information to Katie Coronado, NSCM Assistant Director of Communication and Outreach katie.coronado@ucf.edu. Please feel free to reach out to me.
Published on February 23rd, 2023.