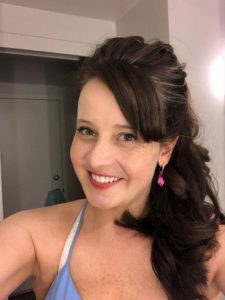 Between 2018 and 2020, Chrioni Lenertz attended the Nicholson School's graduate program in communication. Although she excelled academically, her battle with cancer and associated health problems offered complications. Her studies were interrupted twice by the need for additional cancer treatment.
On July 10, 2021, Lenertz passed away in her home after a six-year battle with Stage Four Metastatic Breast Cancer at the age of 40.
Born 10 weeks early in St. Paul, she was named after a book about a warrior angel with the name Chrioni.
"She fully lived up to her name," said Professor Ann Miller, Ph.D., who taught Lenertz in a master's level class. "She was a fighter to the end, but in the midst of the battle she maintained her sweet spirit, kind heart and trust in God's goodness."
Before coming to UCF, Lenertz was a 2002 graduate of the US Merchant Marine Academy (USMMA) and was a proud member of the USMMA Regimental Marching Band. She worked as a Merchant Marine officer for Military Sealift Command (MSC) and sailed for a year abroad USNS Tippercanoe.
In 2011, she sailed abroad USNS John Lenthall, USNS Patuxent, USNS Rainier, USNS Laramie and USNS Comfort. Sailing brought her to the Great Lakes, Hawaii and Alaska as well as several countries in the Pacific Rim, Mediterranean Sea, Suez Canal, Indian Ocean, Persian Gulf, Caribbean Sea, South Atlantic Ocean and Panama Canal.
However, in 2015, she was diagnosed with Stage Four Metastatic Breast Cancer at age 34 while serving as the navigator aboard USNS Comfort. She started treatment, and remained resilient, achieving her Chief Mate license in 2016.
Her favorite memories in life came from her time in Hawaii as well as in Greece and Angel's Landing in Zion National Park.
Lenertz touched many lives and made a great impact in her community. She thrived on helping the local Oviedo community by volunteering at The Hope Chest Thrift Store/Boutique.
If people wish to send tributes, she humbly asked that they contribute to her alma mater USMMA Alumni Association and Foundation or to the National Park Foundation.
Published September 1, 2021. Written by Iulia Popescu.
If you have any news, accomplishments or highlights about your work or life, please be sure to share them with us, by emailing us at nicholsonews@ucf.edu.