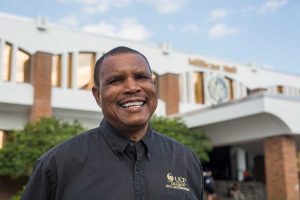 Anthony "Tony" Major, associate professor of film at UCF, left behind an extensive legacy after passing at the age of 79. After 24 years at UCF, Major touched many lives, and made a great impact on the univeresity's theatre, film, as well as faculty and staff organizations.
Major had been compared to the likes of reverend John T. Washington, Ph.D, a man who was one of the first African Americans to hold a faculty position at UCF, from the mid-1970s to early 1980s, and who mentored many students, taking them under his wing.
During a time in history when there were rampant racial injustices, Washington was a selfless leader who dedicated his life to standing up for others. He had a positive impact on every person he met. Major, many say, was much the same.
"He was far more than just a teacher here at UCF," said Martha Stewart, professor in the college of education at UCF for more than 34 years. "He was an advocate. He was the one who kept the mission of John T. Washington alive. Now, for those of us that remain, the work goes on, the cause endures. The hope still lives. And the dream shall never die."
Major received his bachelor's degree in theatre from Hofstra University and an MFA in film and television from New York University. He joined UCF in 1995 as a member of the theatre department, which later became part of the film department. Major was also program director for the Zora Neale Hurston Institute for Documentary Studies and director of the interdisciplinary Africana Studies program, housed within the College of Arts and Humanities.
The films and theatre productions that Major created often depicted intricate pieces of the African-American experience in the United States.
"Tony changed the face of theatre UCF," said College of Arts and Humanities Associate Dean Lyman Brodie.
As vice president of the Red Foxx Corporation for six years, Major also negotiated contracts for movies, TV and commercials. He was an actor and had many connections in Hollywood, including well-known ones such as Brad Pitt, Richard Pryor, Eddie Murphy, James Earl Jones and Dolly Parton.
Most importantly, he helped his pupils thrive and shaped great actors. Major won a grant for the UCF Theatre Department for teaching and directing three students to first place winners in the A&E Great Gatsby National Screen Test and also helped to secure four full Disney scholarships for minority students.
His passion for diversifying the media led to him also being a part of The State of Black Star Power 2019, a panel of film, television and economic influencers. This panel explored the socioeconomic importance of biographical films to the black community, and what that could possibly mean to the future of filmmaking in Florida.
To watch Major's chat with WESH Anchor Jazmin Bailey about the The State of Black Star Power 2019 panel, click here and to watch a recording of the entire event, click here.
Some of Major's recent projects included a profound documentary about the 2012 shooting death of 17-year-old Trayvon Martin. Major also made several productions in collaboration with the Zora Neale Hurston Festival of the Arts and Humanities, a multi-day, multi-disciplinary, intergenerational festival that he adored.
On June 27, a beautiful remembrance was held on campus in UCF's Live Oak Room. Many people spoke about their fondest memories of Major. From those in the film department to the John T. Washington honor society, to UCF Athletics – many shared how he had impacted their lives.
"We are left with a beautiful example of life," said Contana Thomas, a UCF alumnus, tearfully at the remembrance. "We should try not to cry. We should try not to feel sorry for ourselves because our friend has left us. No, we should celebrate the life that was Anthony B. Major. Do not mourn his passing. Continue to celebrate his life. Take up his causes. If I can leave you with anything, I would like to say – there's still more work to be done. There's still more work to be done here at UCF and all of us are being charged to carry on the work that he started."
MC Santana, associate professor and director of the women's and gender studies program, also announced a new scholarship that will be created in his name, which will be open to candidates in January 2020.
"This scholarship is targeting students who are committed to civil rights in this country," announced an emotional MC Santana. "Mr. Major grew up in segregated Sarasota, FL. His experiences in high school and later in Hollywood were lived through the lens of race. While facing many obstacles, Mr. Major's will and passion never stopped. His community commitment to other African Americans was part of his tenacity and spirit. We will never have him again, but we can cherish others like him who are working for peace and understanding."
This article was written by Iulia Popescu.