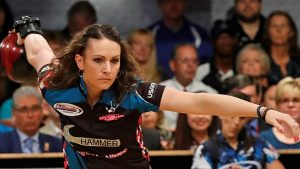 LIMA, PERU – Soaked in history, Peru's capital city of Lima is surrounded by stunning colonial relics, picturesque valleys, colorful buildings and tranquil beaches.
Stefanie Johnson, 06' criminal justice 08' interpersonal communication, and her partner, Shannon O'Keefe, found themselves amongst the culture, taking in the sights and smells of the city as they arrived to participate in the Pan American Games.
The Games took place July 26 through August 11, 2019. Held every 4 years, in the year preceding the Summer Olympics, the Pan American Games is the second largest multi-sport event that brings together the 41 National Olympic Committees that comprise PanAmSports.
"Traveling to Peru to compete in the Pan American Games was an experience I will never forget," Johnson says.
On their days off, Johnson and O'Keefe, along with their teammates, traveled to unique places and ate at authentic restaurants in the city that is known as South America's culinary capital. On all the other days, they were hard at work representing the United States in bowling tournaments, held in one of the massive venues built specifically by the city for each of the sports.
Their bowling competition was scheduled for July 25-30.
Although Johnson has been a member of Team USA for 15 years, she had never been able to pass the rigorous qualifying process for the Games before. Now, she would finally have a chance to attend as she always wanted to, and one of her best friends, O'Keefe, would be by her side.
Together, the pair would go on to help the U.S. team take the gold!
"The competition in our sport is strong so we knew we would have to bowl great in order to come away with a victory – thankfully the pins fell our way that week," Johnson says. "Being able to compete in our sport representing our country at the highest level, all while traveling the world, is such an honor!"
Their bowling excursions didn't end there though. In August, they participated in the World Championships held in the vibrant land of Las Vegas where they qualified in first place for team events and ended up finishing third.
Johnson has always had a love for bowling, but it was at UCF where she honed those skills further. UCF's bowling team initially encouraged her to apply and become a Knight.
"I have been bowling as long as I can remember being able to lift a bowling ball," Johnson says. "I knew in high school that this is something I wanted to pursue in college and ironically, the program at UCF had just formed. I was graduating high school in 2002 and the UCF Bowling Team had started the year before, so it was a brand-new program that I was excited to be a part of."
She is now currently preparing to leave for Team Trials the first week of January to try out for Team USA 2020.
Published December 1, 2019. Written by Iulia Popescu.
If you have any news, accomplishments or highlights about your work or life, please be sure to share them with us, by emailing us at nicholsonews@ucf.edu.