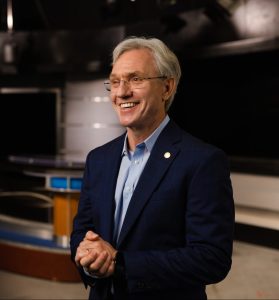 Whether it's solving the world's biggest problems or investigating the potential of novel discoveries, researchers at UCF are on the edge scientific breakthroughs that aim to make an impact. Through the Research in 60 Seconds series, student and faculty researchers condense their complex studies into bite-sized summaries so you can know how and why Knights plan to improve our world.
Name: Timothy Sellnow
Position: Pegasus Professor and associate director of Graduate Studies, Research and Creative Activity in the Nicholson School of Communication and Media
Why are you interested in this research?
I've always been fascinated by how some communities and organizations do better at avoiding or recovering from crises than others. This fascination motivated be to join the emerging community of risk and crisis communication scholars very early in my graduate education.
Who inspires you to conduct your research?
I'm always inspired by the community leaders we meet. My wife, UCF colleague, and research partner, Deanna, and I just spent returned from a research trip to Puerto Rico. We met some true heroes who are working tirelessly to help the Island continue recovering from the devastation caused by Hurricane Maria.
How does UCF empower you to do your research?
The Nicholson School of Communication and Media and the College of Science provides tremendous support. I'm grateful to work with excellent leaders such as Robert Littlefield, Michael D. Johnson, and Maggy Tomova.
What major grants and honors have you earned to support your research?
I've been on research teams funded by the CDC, WHO, USDA, EPA, DHS, FEMA, and others. This funding has enabled us to solve some troubling communication problems.
Why is this research important?
Risk and crisis communication research helps us anticipate the messages needed to help people protect themselves and their loved ones. In many situations, these messages are the difference between life and death.
How to Get Involved with Research at UCF
F-LEARN @ UCF: A living-learning community for STEM students entering UCF from high school that provides hands-on early research opportunity for academic success.
Getting Started Workshops: The Office of Research hosts workshops that inform students about how to get started in research and find a faculty member to work with and the first steps on getting started in research.
Honors Undergraduate Thesis: Over the course of two to four semesters, students work closely with a faculty committee to research, write, defend, and publish an original thesis that serves as an honors capstone product of their undergraduate career.
Introduction to Research and Creative Scholarship Opportunities (INTRO) Mentoring Program: A semester-long immersive, classroom experience offered in fall and spring semesters that provides students ways to get connected to research opportunities. This program is available in person or online.
Office of Undergraduate Research: OUR is dedicated to cultivating and supporting world-class research at UCF. Students can connect with the office for any questions they may have about research or to find opportunities.
Peer Mentoring: This program connects students with experienced undergraduate researchers who will provide guidance on how to get started and get support through research experiences.
Research Positions Database: This online resource allows students to discover research opportunities with UCF researchers across various disciplines. Please note faculty contact information is password protected, but students can gain access by attending a peer mentoring session, completing the Research Roadmaps webcourse, and through other engagement opportunities.
Research Roadmaps Webcourse: The is an online, non-credit, self-paced course that introduces students to research opportunities at UCF. It provides the same information as peer mentoring sessions or a workshop, but at your own pace. Completion of this course also provides you access to the Research Positions Database.
SONA: This is a research participation system that allows students who are looking to become participants in studies, usually in exchange for course credit, to find opportunities. The College of Health Professions and Sciences, College of Business and Department of Psychology are among some of the units at UCF that list opportunities here.
Summer Research Academy: A three-day event in July that's designed to support UCF undergraduate students across all majors who are interested in participating in research and creative scholarship. This is an ideal opportunity for students who want to begin research in the fall.
T-LEARN @ UCF: A living-learning community for first-year, transfer students at UCF who have already earned an Associate in Arts degree. T-LEARN provides a select group of students interested in STEM hands-on learning experiences by helping them engage in research.
Are you a faculty member or student conducting research at UCF? We want to hear from you! Tell us about your research at bit.ly/ucf-research-60-form.
This article was originally written by Nicole Dudenhoefer for UCF Today.
Published to Nicholson News on June 7th, 2022 by Ryan Fox.
If you have any news, accomplishments or highlights about your work or life, please be sure to share them with us, by emailing us at nicholsonews@ucf.edu.