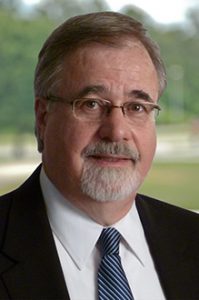 Although James Katt, Ph.D., retired this summer, his work is still having an impact. The National Communication Association recently announced that Katt was this year's recipient of the Samuel L. Becker Distinguished Service Award.
Given annually, the award honors a lifetime of outstanding service to the association and to the profession. The recipient's contributions may be in research, teaching or service. The award committee notes that Katt's projects "consistently focus on improving teaching and learning, as well as enhancing the undergraduate student experience and success."
Katt has contributed to the communication discipline with multiple publications, conferences and textbook contributions. The award says something special not just about his work, but the contribution to the field of communication.
NCA advances communication as the discipline that studies all forms, modes, media and consequences of communication through humanistic, social scientific, and aesthetic inquiry. NCA serves the scholars, teachers and practitioners who are its members by enabling and supporting their professional interests in research and teaching.
"NCA's annual awards honor communication scholars' teaching, scholarship and service," said Trevor Parry-Giles, NCA executive director. "Dr. Katt's contributions to the communication discipline are noteworthy and NCA is proud to recognize them with this award."
Katt served on the NCA Presidential Task Force on Core Communication Competencies. With regard to the recipient's contributions to the Task Force, one nomination letter noted the recipient's "active participation," "cogent, thoughtful contributions to the project," "dedication to excellence," "concern for the group" as well as a "calming presence and relaxed demeanor" as the competencies were evaluated, refined and assessed.
Katt recently retired as an associate professor from the department of communication at the University of Central Florida, after four decades of service. He received two bachelor's degree on management and marketing, his master's degree on communication and his doctorate on curriculum and instruction, all from UCF.
"We are so pleased that Dr. Katt has been recognized with this lifetime achievement award from NCA," said Robert Littlefield, director of Nicholson School of Communication and Media (NSCM). "Although I only had the opportunity to work with Jim for two years, I found him to be a wonderful colleague and I am so pleased that our national association has shared my assessment of his contribution to the discipline."
Katt's award will be presented on Nov. 10 at the NCA 104th Annual Convention in Salt Lake City.