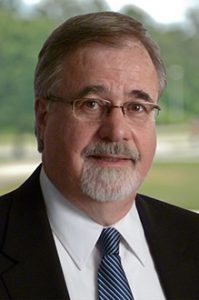 James "Jim" Katt, Ph.D, retired last summer as a professor of human communication, but his work continues to speak volumes.
Months after retiring from the University of Central Florida (UCF) with 45 years of service under his belt, Katt has been selected to receive the title of associate professor emeritus, communication. He earned his Ph.D. in curriculum and instruction from UCF in 2003 but has been teaching for the Nicholson School since 1973.
When a professor retires from the classroom, he or she may be given the title of emeritus, which remains a mark of distinguished service that is given to only a select few.
Katt was named associate professor emeritus at the university's annual Founders' Day Honors Convocation held in the Pegasus Ballroom of the Student Union. The event was open to university community, along with their guests.
"Jim has played integral roles in establishing the school of communication, as well as building and continually growing and developing the curriculum in the human communication program," Boyd Lindsley, senior associate director, stated in a letter of support for Katt's emeritus nomination. "Even in retirement, Jim continues to do research in the discipline, which only underscores his commitment to the field and the tenets of higher education."
While working at Nicholson, Katt maintained a consistent record of leadership and scholarship. He authored or co-authored 20 refereed academic journal articles in reputable outlets and presented more than 70 conference paper and panel presentations.
Katt's excellent work as a teacher, researcher and leader are demonstrated in the many accolades he has received, including several TOP Paper awards from the National Communication Association (NCA) – the most recent being the Samuel L. Becker Distinguished Service Award from NCA – three Teaching Incentive Program (TIP) awards, and two Scholarship of Teaching and Learning Awards (SoTL) from UCF.
"On a personal note, prior to my tenure with the university, Jim served as an instructor of mine while I was pursuing my master's in communication," Lindsley added. "I was able to see firsthand his commitment and care for his students and the devotion to the discipline."
The annual convocation recognizes faculty members for outstanding teaching, advising, research, professional service and librarianship. This includes recognition of UCF Reach for the Stars Award recipients and Pegasus Professor Award recipients.
UCF faculty members who have completed 20, 30, 40 and 45 years of service and those who recently retired or will be retiring soon are also recognized for their dedicated service at the convocation. Faculty who have served as a senator in the Faculty Senate for 10 years are additionally recognized as well.
This article was written by Iulia Popescu.