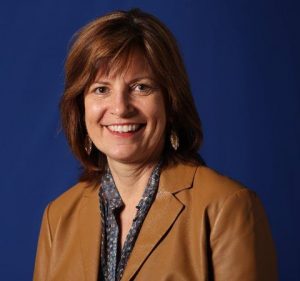 Julie Anderson, '84, '89, recently led her newspaper, the Sun Sentinel, to a Pulitzer Prize for public service after having only been their editor-in-chief for a little more than a year, since March 2018.
The award, considered the most prestigious of the 14 Pulitzer Price categories of journalism and recognized with a gold medal, was announced on April 15 for the paper's coverage of the mass shooting at Marjory Stoneman Douglas High School in Parkland. The Sun Sentinel was also named a finalist for this year's Pulitzer in breaking news.
While Anderson was elated at winning journalism's most respected honor, she was also somber because of the tragedy that sparked the award-winning coverage.
"It means so much to win the gold medal Pulitzer for public service because that's the spirit in which we approached our Parkland coverage," Anderson said, previously highlighted in an article here. "We wanted our reporting to make a difference so that this never happens again."
Anderson graduated from UCF twice, earning a bachelor's in journalism in 1984 and a master's degree in political science in 1989. She is a member of the Nicholson School of Communication and Media's Advisory Board and frequently visits UCF as a guest speaker.
The paper published numerous stories that exposed the systemic failures which allowed a teenage gunman to easily enter the school with a semiautomatic rifle on Valentine's Day 2018 to slaughter staff and students during their rigorous reporting.
The Sun Sentinel's coverage sparked significant changes in law enforcement and school safety. The coverage also led to legislation in order to hold schools more accountable for crimes that occur on their campuses.
In a letter to the Pulitzer Prize committee, parents of slain students at Parkland praised the Sun Sentinel's aggressive reporting. "The work by the Sun Sentinel's reporters reminds us of what journalism can and should be,'' the parents wrote in the letter. "… The local journalism done by the Sun Sentinel served as a torch in that darkness. We ask you – the Pulitzer Committee – to hold that torch up so that parents across America can see what its light exposed.''
To read the Sun Sentinel's Pulitzer-winning stories, click here.
This article was written by Iulia Popescu. Written in 2019.