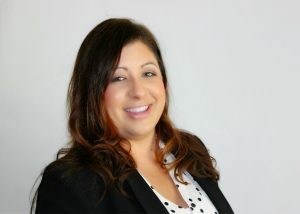 Jennifer Sandoval, associate professor, has always believed that work should be a safe and inclusive space. Selected as a Faculty Fellow for Inclusive Excellence, she wants UCF to be a leading example of diversity and all-inclusiveness in the workplace.
One of the five pillars of UCF's Institutionalization of the Collective Impact Strategic Plan, noted on the Faculty Fellows for Inclusive Excellence page, is the promise to recruit, cultivate and retain exceptional and diverse faculty, students and staff.
Sandoval aspires to increase faculty diversity, and to improve equity and inclusion in faculty spaces to help UCF keep those promises. Her to-do list is extensive.
"Right now, I am focused on our recruitment and retention processes and I am designing a training that will improve our approaches in this realm," Sandoval stated. "I will be piloting an 'equity advocate' program where equity minded faculty receive specific training and development to become the point person in their department for this work. I am also working with a number of campus offices to create a shared vision of what equity, inclusion and diversity looks like for our faculty."
The goal of the Inclusive Excellence Faculty Fellows program is to lead the development and implementation of an inclusive excellence plan under the guidance of Provost Elizabeth Dooley and Vice Provost Jana Jasinski.
"I look forward to [Sandoval's] contribution to UCF through the Inclusive Excellence Faculty Fellows program," said Jasinski, Pegasus professor of sociology and Vice Provost for Faculty Excellence.
In addition to the 20-hour a week commitment, Sandoval will be offered a summer administrative assignment.
"I believe this work is essential to creating a humane work life where faculty are valued and feel a sense of belonging," Sandoval said. "Students learning experience are directly impacted by who is leading courses, labs and curriculums. Almost every college and university in the U.S. needs to improve both their compositional diversity and also their climate and culture – UCF is no exception. However, as a large, public, Hispanic Serving Institution, we have an opportunity to be a leader and to show what true commitment to these values really looks like."
Sandoval has a Ph.D. in communication and culture from the University of New Mexico and a master's degree in dispute resolution from Pepperdine School of Law.
Her research focuses on the communicative elements involved in the intersection of identity, the body and health. She is interested in the communication of marginalized identity in various contexts. She also continues work with community based-participatory research projects focusing on health intervention in under-served and underrepresented populations.
Sandoval brings her experience as a mediator, project manager, trainer and consultant to all the work she does with UCF.
This article was written by Iulia Popescu.