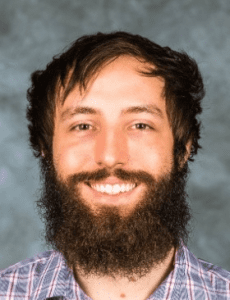 The September Faculty Spotlight is on Nicholas "Noah" Hunter, who started teaching in the Games and Interactive Media (GaIM) program in Spring 2021. Specializing in 3D production modelling for real time engines, he believes that game engines are the future of cinematography and storytelling.
As a double alum of the University of Central Florida (UCF) and the Nicholson School, Hunter majored in digital media as an undergrad and completed his Master of Science in interactive entertainment through UCF's Florida Interactive Entertainment Academy (FIEA).
"The best thing I received while I was a part of UCF's digital media program was an impromptu mentorship from senior students while I was a junior," said Hunter. "Through their critiques and leadership in my first Capstone class, I became skilled and confident enough to seek out new challenges in my spare time. The best thing I received at FIEA was the network of new friends and professionals who continue to support me in my work to this day."
As a student, Hunter began working with the tools taught in his courses outside of class work, and discovered his passion for creating 3D art.
Since then, he has worked on several synthetic training environments in the simulation and training industry. He has published work for individuals as a 3D artist, including for the Armed Assault (ARMA) game series. ARMA is a series of first-person tactical military shooters, developed by Bohemia Interactive studio and originally released for Microsoft Windows.
His favorite piece that he drew for the ARMA game series are sampan boats that are used by civilians and weapon smugglers in the waterways of Vietnam during gameplay.
"The work I did for Armed Assault 3 was more of a whole experience, rather than a series of assets," said Hunter. "I worked directly with what's called an Encoder, and these professionals are responsible for converting the work I do into something the game engine understands. Quality Assurance got back to us after our first review and said they'd never seen a more near-perfect asset in first round testing."
As an avid video game lover, he enjoys playing video games as much as creating art for them.
"I like a lot of genres and a lot of games," he said. "In no specific order, my top five recent games are 'Death Stranding,' 'Divinity: Original Sins 2,' 'Dishonored 2,' 'Deep Rock Galactic' and 'Jurassic Park Evolution.'"
To find out more about the Games and Interactive Media program, which is home to both undergraduate and graduate programs at UCF Downtown, click here.
Published September 1, 2021. Written by Iulia Popescu.
If you have any news, accomplishments or highlights about your work or life, please be sure to share them with us, by emailing us at nicholsonews@ucf.edu.