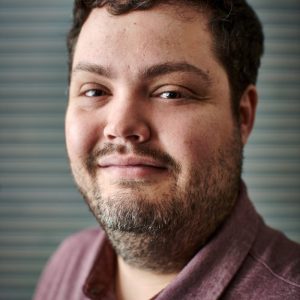 The grants keep coming for the Nicholson School of Communication & Media. Staff member Jordan Lipscomb has recently been chosen for funding by UCF's Technology Fee Committee.
The UCF Technology Fee Committee generates revenue to enhance instructional technology resources for students and faculty. Grant money goes towards helping students receive a better education and helps allocate them the crucial technology they need.
Lipscomb is the manager of the new Maker Space that opened in August of Fall 2019, run by the Nicholson School's Department of Games and Interactive Media at UCF Downtown, and teaches as an adjunct.
"The Maker Space is host to a variety of tools and equipment," Lipscomb explained. "We have virtual and augmented reality equipment, a 3D printer, a laser cutter and other various pieces that are needed when working on projects. Some of these pieces of equipment are safety related, which needs to be provided to the students, while others are for convenience to make fabricating easier."
Lipscomb is responsible for training students on the equipment, supporting their creative efforts, promoting various tools and fabrication methods and managing the future needs of the Maker Space.
As a proud Nicholson Knight who graduated in 2015 with a bachelor's degree in digital media, with an emphasis in game design, and a master's degree in digital media in visual language and interactive media in 2018, as well as a dedicated employee, he now wants to give back to the school.
The Technology Fee Committee will be funding his proposal, Maker Space MultiUser Facilitation. The funding will allow for more equipment in the lab, such as 3D printers, with the intention of providing for more students at one time.
"3D printing is a great way to build prototypes and even working projects," Lipscomb said, "but it can take a while to print. Projects can take anywhere from ten minutes, to three days, or even longer. Having more than one 3D printer will improve in the Maker Space."
As a former UCF student and now employee, he has the inside knowledge to understand what essential equipment is necessary to better serve students and cannot wait to see the improvement this grant will provide for the school.
"I'm excited to bring this new equipment to the Maker Space and I'm looking forward to seeing what kinds of projects students develop," Lipscomb said.
Boyd Lindsley, Ed.D., senior associate director of the Nicholson School noted, "This is a continuation of a strong track record of Technology Fee funding for the school. Nicholson students have been the beneficiaries of millions of dollars of Tech Fees awarded to the school throughout the years. The majority of these awards are thanks to the efforts of NSCM's committed staff, just like the excellent work Jordan did."
Congratulations to Jordan on a successful application!
For more information on UCF's Technology Grant Committee or to view more grant awardees, visit their website.
Published May 1, 2020. Written by Iulia Popescu.
If you have any news, accomplishments or highlights about your work or life, please be sure to share them with us, by emailing us at nicholsonews@ucf.edu.