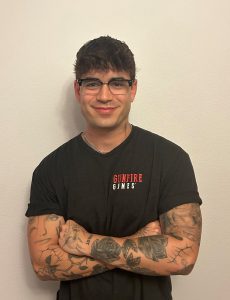 Alumni from the Games and Interactive Media (GaIM) program at the Nicholson School of Communication and Media at UCF continues to highlight exceptional work with students and alumni. Instructor Nicholas Hunter shares in this sentiment by commending one of his previous students, Giancarlo Penton by saying, "I believe Giancarlo's story showcases the exceptional skill and opportunities within our program at UCF."
Penton was enrolled in Hunter's Modeling for Real Time Systems 2 class during the Fall Semester of 2021. Hunter adds that, "Impressively, while still attending classes, Giancarlo secured a position as an artist at Gunfire Games in the following Fall Semester of 2022. His skill and commitment to his craft were evident as he continued to excel academically while employed full-time. During the Spring Semester of 2023, Giancarlo produced his most exceptional work yet in my Post-Production Game FX class, completing an outstanding project in just six weeks."
In a brief interview, Penton gave insight into his favorite parts of his career, the mistakes he learned from, and a piece of advice he would give to anyone graduating.
What are your degree/s and graduation year/s? And what is your current job title? 
"Hi, my name is Giancarlo Penton and I graduated UCF in the Spring of 2023 with a degree in Digital Media and a focus on Game Design. I currently work for HypGames as a 3D Character Artist working on mobile games."
What is a mistake that you learned from early in your career? 
"One mistake I learned early in my career is not seeking out help and finding a mentor. I am very thankful to have later found a mentor, Professor Hunter, to help me throughout my academic career."
What is your favorite part of your career?
"My favorite part of my career is being able to do what I love. Character Art has been a passion of mine for several years and being able to do it every day makes my job not feel like work."
What is a piece of advice you wish someone had given you at graduation?
"One piece of advice I wish someone would have given me at graduation would be that breaking into the video game industry is more difficult than it seems. Putting in the time and work towards your portfolio is the key to finding success."
Shortly after sharing his work, Giancarlo received an interview request from 80.lv, a renowned website covering game art and technology news. The interview, now available on their website, provides insights into Giancarlo's artistic journey and achievements.
Check out his website here: ArtStation – Giancarlo
By Majdulina Hamed.
Published to Nicholson News on July 7th 2023.
If you have any news, accomplishments or highlights about your work or life, please be sure to share them with us, by emailing us at NicholsonNews@ucf.edu.