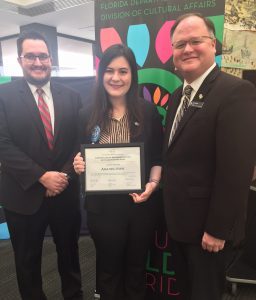 School of Visual Arts and Design student Ana Beltran received a certificate for advocacy in the arts from the Florida Higher Education Arts Network council in Tallahassee as part of Florida Arts Advocacy Day.
Florida Arts Advocacy Day is a collaboration between the Florida Cultural Alliance and Florida Higher Education Arts Network (FHEAN). The mission of the event is to highlight the importance of state funding for the arts, arts education, and culture. According to state budgets, Florida's investment in the Division of Cultural Affairs grants has been reduced over the last three years. The demand for them, however, has increased. The event is also a chance for arts educators and leaders to network with legislators and each other.
For Beltran, the arts have been infused into her life since an early age. Born in Caracas, Venezuela and immigrating to the United States with her family when she was 4, she grew up with the arts being a pillar in her home. She became enamored with how films and animations were made and the worlds created outside of reality. "Animated films tug on the strings of human nature by telling their stories, whereas video games are an interactive medium that makes the player be a part of the story," says Beltran. "They coexist with each other as technology and the creative arts."
At UCF, Beltran is pursuing a B.F.A. in art and bachelor's in digital media, in addition to serving on the President's Leadership Council. Her courses in SVAD have helped shape her creative skills. "I think the opportunity of incorporating the arts into classes with technology and vice versa is one of the primary ways we can build towards industrial and creative thinking. UCF has Adlab – just one example of how we're already at the forefront of these ideas!"
Beltran notices the need for state funding, even with such resources at UCF. "I look forward to seeing what future iterations and ideas bring about, but the road would be that much more difficult without state funding of such programs. To think that the entire budget for the arts in the state of Florida only amounts to a fraction of the entire state budget is mind-blowing, therefore the fact that the arts are actually not being funded fully is a fact that needs to be changed for the betterment of all involved."
Beltran hopes to work as an art director at Nintendo someday. "The idea that I can build a world that will inspire the next generation of game designers, artists, and little girls looking into a career in animation or video games is what drives me to continue working every day," she says.
In February, it was announced that Beltran won the Order of Pegasus award, the university's most prestigious honor. Beltran won the award as a junior, a distinction from most students who are in their last semester of their program. Read more about the honor here.